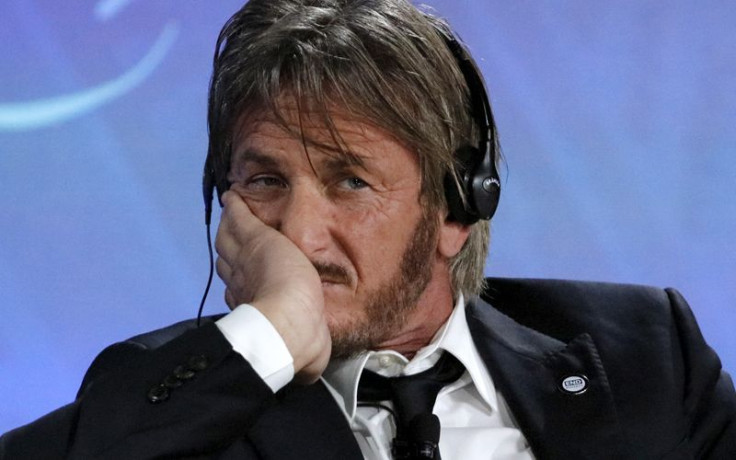 Sean Penn is finally speaking out in full lenght after his interview with "El Chapo" Guzmán was published almost a week ago following the druglord's capture. When the Attorney General of Mexico said that authorities were tipped off of the the kingpin's whereabouts, they mentioned it was his contact with producers and actors that were interested in producing a biopic of his life. Now in an interview with Charlie Rose, the actor says that is not true at all. "There is this myth about the visit that we made, my colleagues and I with El Chapo, that it was -- as the Attorney General of Mexico is quoted -- 'essential' to his capture," Penn said. "We had met with him many weeks earlier...on October 2nd, in a place nowhere near where he was captured."
Penn says that the Mexican government "was clearly very humiliated by the notion that someone found him before they did." The actor says that he is now the government wants to frame him "to encourage the cartel to put him in their crosshairs." However, when Rose asked if he was fearful for his life he answered, "No." Sean Penn does have one regret though he said, "I have a regret that the entire discussion about this article ignores its purpose, which was to try to contribute to this discussion about the policy in the War on Drugs." The "Milk" actors considers his article a "failure" as it did not spark the conversation he intended it to and took a completely different route.
Sean Penn has also taken flack for having "El Chapo" review the piece before it was published but he says "it was a small price to pay." "When you get the story that every journalist in the world wanted, there's a lot of green-eyed monsters who gonna come give you a kiss," Penn said. "At the same time, you know, when...'journalists' who want to say that I'm not a journalist -- well, I want to see the license that says that they're a journalist." The full interview will be broadcasted on Sunday during "60 Minutes" on CBS. Watch a clip down below.
© 2023 Latin Times. All rights reserved. Do not reproduce without permission.