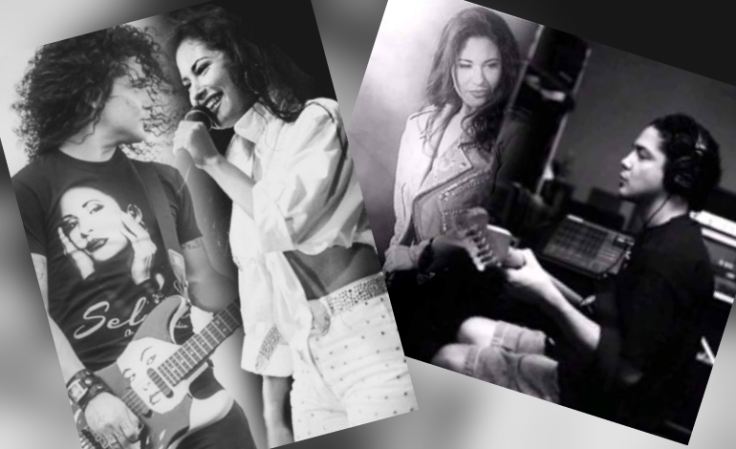 Chris Perez is one of the most interactive musicians we follow on Facebook. We love the way he opens his doors to fans and chit-chats with them when he has a chance. It's no wonder why the late Selena Quintanilla fell in love and married this sweet and down-to-earth human being. One of his latest posts, however, has everyone on the social media platform gushing.
"Sometimes....I see pics like this real quick and think to myself, 'When the 'F' was this?'...and then I remember, it's not a 'real' picture. (Twilight Zone)," the father of two expressed on Facebook, sharing a fan edit of him and the "Como La Flor" songstress.
The photo and its caption, which garnered nearly 70K likes and over 900 shares in less than 24 hours, had fans showering his wall with heartwarming comments such as "she's always watching over you" and "he's says its not a real picture but I know she stops by to visit him and show she still exists just not in this dimension."
Amongst the many comments was one from Emely Tanairy Verde, who revealed she was the person who made the edit about a month ago.
"I simply love Selena & the love you have for her. The fact that you shared it just made me go crazy with excitement," she wrote. "I think we can all relate to why us fans make these sort of pictures. You're a beautiful person who is being watched over by an equally beautiful soul."
The FB user then shared another wonderful edit of Chris and the Queen of Tejano, to which the former Los Dinos guitarist replied: "Crazy how you guys can make it look so real!"
In honor of #WCW, here's one of our favorite Selena performances of all time!
© 2023 Latin Times. All rights reserved. Do not reproduce without permission.