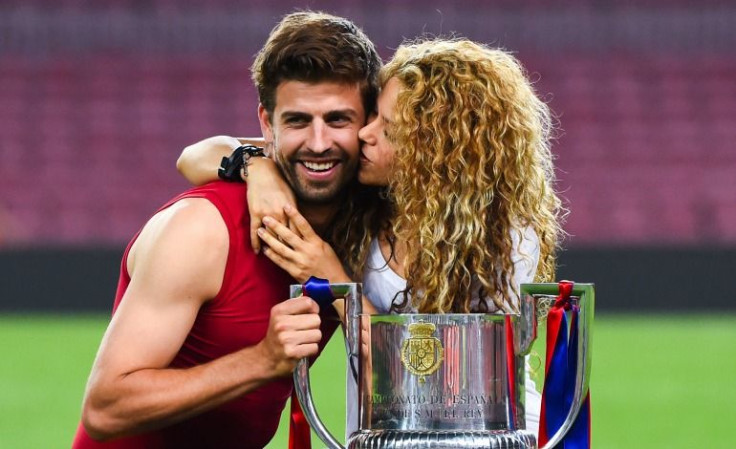 Shakira and Gerard Piqué have reportedly split after 7 years together and two beautiful kids, Milan and Sasha. The rumor of the couple's breakup comes from the site Cotilleo that claims that the Colombian star has already moved out the home she shared with the soccer star. Why did they call it quits? It's still unclear but the portal says the "She Wolf" hitmaker had, "had enough." According to a source from Us Weekly, the couple "have 100 percent not split." The allegations of the reported breakup comes as Shakira is ready to embark on her "El Dorado World Tour" and Piqué starts prepping for the World Cup in 2018.
Earlier this year Gerard Piqué's ex, Nuría Tomás, broke her silence. She was the woman the Spanish star was dating before Shakira. "Gerardo is a good person and you can only wish the best to good people," she told La Vanguardia. "It's been years since that wound healed and years since I've wished him the best." Tomás had always kept a low profile when it came to her love life and even kept the talk to a minimum with her relationship to Jorge Lorenzo, who she started seeing after Piqué. Her interview made it clear that the lovely young woman had no resentment for her ex-boyfriend and the mother of his two children when she affirmed with a great sense of humor that she's danced to Shakira's music hits.
"They have called me from many times to ask me for an interview but I have never wanted to speak," she added. "I can't deny that I was with someone in the spotlight, but I've never made my relationship public, I would betray myself. I have nothing to say about my private life and if I wasn't an actress, not even my professional life. The difference with another mate is the last name, the feelings are the same."
Also this year, Piqué and Shakira were plagued by rumors of a possible third pregnancy, which have turned out to be fake. "They are going for the girl," a tipster revealed. "They want to get pregnant by April so the baby is born in January, or with more luck, the birthday of their parents. That's how they planned it with their boys, but they were born before their programmed date."
We wonder if Shakira will include her hit "Me Enamoré" on her tour? That is the song she dedicated to Piqué and it would be extremely awkward to sing the tune when she is facing a breakup, don't you think? In the song, Shakira sings about how many kids she would like to have with the soccer star. "With you I would have 10 kids," she sings. "Let's start with a pair." "Life began to change the night I met you," Shakira sings. "I didn't have much to loose and it started there." She also writes about thinking that Piqué was too young and adds: "That is what I was looking for, what the doctor recommended, I thought I was dreaming."
© 2023 Latin Times. All rights reserved. Do not reproduce without permission.