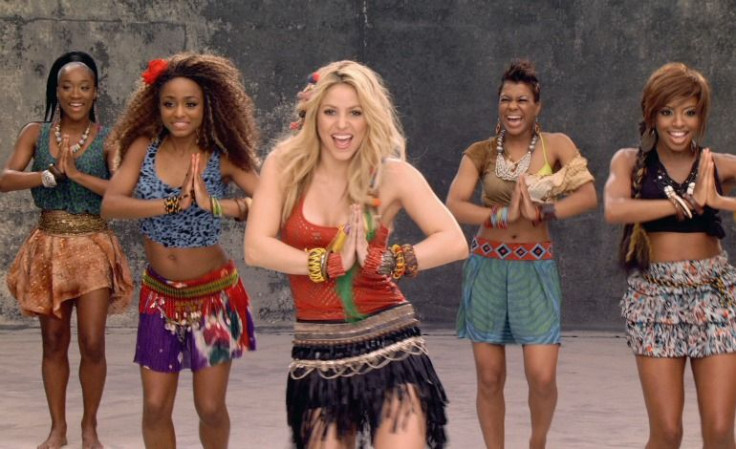 With her recent acting debut in "Zootopia," the new parenting app she launched, and her motherhood lifestyle, Shakira has been missing in action from the music industry; however, that doesn't stop her from breaking records. In fact, the Colombian singer celebrates a new milestone in her career thanks to all of her fans around the world.
Shakira revealed great news across all over social media platforms, which add up to nearly 200 million followers collectively, stating that she has reached a new goal on YouTube. "Shak's videos have now more than SIX BILLION plays on http://youtube.com/shakiravevo! ShakHQ," she expressed earlier this month. With this accomplishment, the entertainer, mother of two, UNICEF ambassador, philanthropist, and businesswoman, joins the elite club of channels with billions of views. In case you were wondering, Shak's most popular video on her VEVO YouTube channel is "Waka Waka" (This Time For Africa," song she released for the 2010 FIFA World Cup.
Recently, the "Hips Don't Lie" songstress has hinted at a possible studio album following her 2014 self-titled production. In fact, the mother of the adorable Milan and Sasha, shared a couple of photos that clearly teased her fans. "Writing songs! / Escribiendo canciones! Shak," said one of the posts. Another post simply stated: "Drumming." Yes, we are crossing our fingers that the writing and drumming are part of her long overdue album.
The last album the Colombian songstress dropped was two years ago with "Shakira." The 10th studio production includes hits such as "Dare (La La La)," "Empire," and "Can't Remember To Forget You" featuring Rihanna.
In a press conference held in October 2015, the 39-year-old singer promised to start working on an album for 2016. "By the end of this year or the beginning of the next year I will start working on my new album in the studio," she said. "Now I want to be first and foremost a mother, because after three months I will no longer have a baby. He will be grown up as a healthy one years old boy," she added. Various news reports reveal that Shak will return to her roots, releasing an all Spanish-language production. In the meantime, let's all celebrate Shak's YouTube success with het seven most-viewed videos.
1) WAKA WAKA (THIS TIME FOR AFRICA)
2) CAN'T REMEMBER TO FORGET YOU FT. RIHANNA
3) LA LA LA (BRAZIL 2014) FT. CARLINHOS BROWN
4) HIP'S DON'T LIE FT. WYCLEF JEAN
5) WHENEVER, WHEREVER
6) LOCA (SPANISH VERSION) FT. EL CATA
7) LA TORTURA FT. ALEJANDRO SANZ
© 2023 Latin Times. All rights reserved. Do not reproduce without permission.