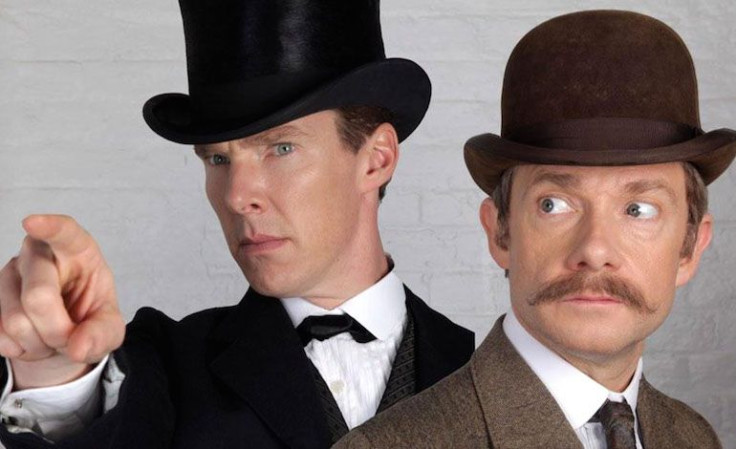 "Sherlock" season four may still be a far ways off, but the one-off special episode is just around the corner! During a recent Q&A with TV critics at the summer TCA Press Tour creator Steven Moffat shared some interesting details about the episode such as the time jump to the Victorian era, the Christmas release date and our characters persona adjustment in this new setting.
"[Sherlock] the manners of the Victorian gentleman, which he doesn't have in the modern version." Moffat explained. "So he is a lot less brattish when he's back then. And Dr. Watson is a bit more upright. They're the same people, seen through the prism of a different time and fitting in to a different society. I would say this Sherlock is a little more polished, and he operates like a Victorian gentleman instead of a posh, rude man, which he does in the modern too."
He further goes on to tell the audience that there is no explanation for the time jump and this episode is just a one time deal. "Really, this is a one‑off," Moffat said. "Unless we go mad and decide on setting it in the 1940s and have them fight Hitler. Nothing is inconceivable if you have no taste. But, no, we go back to doing the show normally next year, unless I'm lying or we change our minds."
Even more Moffat gave us a "sort of" release date telling TV critics, "It's probably Christmas-ish," he said. "We don't actually know. We're not making this up."
We can't wait to see Sherlock and Watson in the one-off episode this Christmas-ish, but until that time check out these other 18 exciting details below:
1. We know who is returning for season four - So far, the confirmed cast includes leads Benedict Cumberbatch and Martin Freeman and regulars Amanda Abbington as Mary Watson, Louise Brealey as Molly Hooper and Jonathan Aris as Anderson. We can expect more of the regulars to turn up as filming progresses, including the likes of Una Stubbs and Rupert Graves.
2. A legendary story to be re-told - "Sherlock" producer and actor Mark Gatiss has revealed some exciting details regarding the upcoming special for season four. According to Hypable Gatiss strongly hinted that the episode will retell Arthur Arthur Conan Doyle's story of "The Red-Headed League." The hint comes from Gatiss tweeting an image of Jabez Wilson Pawnbroker with the comment "We Gingers must stick together...#Sherlock."
3. Key information on the 2015 special episode - The script for the 2015 "Sherlock" special has been co-written by Mark Gatiss and Steven Moffat, with Douglas Mackinnon ("Doctor Who," "Line Of Duty," "Jekyll") directing the episode. Production Designer Arwel Jones is back, while Suzie Lavelle ("Doctor Who," "Ripper Street") joins the team as the Director of Photography.
4. The special will wrap up Moriarty's story arch - According to sources the special episode that will air December 2015 will reportedly wrap up the Moriarty story arch.
5. Season four will be darker - Moffat spoke with Entertainment Weekly saying the production team wants to take the "Sherlock" series somewhere its never been in previous seasons.
"We're going to try to take it somewhere we've never been before — and I don't mean outer space. It will be challenging place to go. We always start with a re-introduction that builds toward a darker climax — we might just be going darker [from the outset]. We got a very, very good set of ideas."
6. Irene Adler may return! - iDigital Times reports that Irene (Lara Pulver) may return to "Sherlock" for season four. If you don't remember Irene she was a love interest to Sherlock and much more than that during the early season. Pulver spoke of returning with RadioTimes saying:
"Sherlock is Mark Gatiss and Steven Moffat's passion project. If it fits to have her back, I know they'll write it; if it doesn't, I trust them to get it right."
Adler was a dynamic character and her return would be very interesting no matter what the plot is for the fourth season.
7. Janine Returns! - Another love interest of Sherlock's and Mary's close friend, Janine will return for the upcoming season. According to Moffat she will definitely be back and her and Sherlock will be friends. The writer told IGN:
"He likes her, though. He'll see her again. They'll be pals. I loved Yasmine's performance as Janine -- she still likes him in the end. At some point, you know, if Sherlock Holmes has to go to a function and he needs a date, he'll phone her up. Now, he'll not expect her to say no. She'll be very cross with him, but she'll show up, and they'll have a good time. They will, because he likes her."
8. Moriarty is not Alive! - Moffat said early on that Moriarty is indeed dead and not coming back. The writer said "He shot himself in the face. What more do you want?" However, if you are suspicious like we are then you could say that this is a ploy to keep the surprise alive.
9. Tom Hiddleston may join the cast - The "Avengers" villain is said to be joining the cast of "Sherlock" for season four. Online speculations have said that he will join as the third Holmes brother. In a Q&A in Brazil, Mark Gatiss, who also plays Mycroft Holmes in the series, joked about the idea when asked if Hiddleston would be considered for the role.
10. Future seasons are already planned! - Moffat told the Guardian that He and Mark already planned ahead for more seasons saying, "Rather excitingly, Mark and I, for no particular reason, we just got out of the rain and sat at the top of the [Sherlock] production bus … and we just started plotting out what we could do in the future." He also added that there was no plan for a movie as each episode is a feature length itself.
11. Will Mary Die? - FashionNStyle reports that season four may see the end of Watson's wife, Mary Morstan. While anything is possible we don't think the creators or producers would get rid of a dynamic female character such as Mary, well not anytime soon anyway. What's more, Martin Freeman has revealed that the show will follow the same path.
"While we play fast and loose with the original stories, we generally follow the trajectory of what Conan Doyle did," said Freeman to the UK's Telegraph. "So [Watson] gets married, and then Mary dies — so at some point presumably she'll die."
12. Steven Moffat reveals season fours theme - "The first series was all about the beginning of their friendship. Second about the formative stages, the love and fear and loss and all that. The third was good days, me and my pal and my pal's wife. Those are golden days. The missing element in a lot of Sherlock Holmes adaptations is allowing it to be funny," Moffat told Entertainment Weekly.
"[Season 4] is going to be … I suppose you'd say … consequences," he revealed. "It's consequences. Chickens come to roost. It's dark in some ways—obviously it's great fun and a Sherlock Holmes romp and all that—but there's a sense of things … coming back to bite you," he added.
13. Moffatt said that fans will be "desperate for series five" - "We're certainly going to put them through the mill," Moffat teased in regards to fans watching the fourth season. "It's going to be more of an emotional upheaval. Hopefully enjoyable and fun, and all the things 'Sherlock' must always be. It will be tough at times. Maybe what's the word? It will be a tougher series."
14. We know the special will be set in a different era - Mark Gatiss reveals Benedict Cumberbatch's Sherlock and Martin Freeman's Watson will visit a very different era in the special episode. The co-creator of the BBC "Sherlock" series revealed that the dective duo will be time traveling in the one-off episode, which is said to air later this year before the fourth season.
The Victorian setting had already been reported, but Gatiss has now revealed the exact year the pair will somehow experience. "I can correct something that has been misreported," said Gatiss. "The series is set in 1895, not 1885."
15. Production will begin in the Spring - Chatting with Digital Spy after the Bafta TV awards, showrunner Steven Moffat confirmed that series four is planned to start filming in spring 2016. We don't know if it will be filmed in an uninterrupted block or if productin will be stopped in between episodes to accomodate the actors busy schedules.
Futhermore, with this recent development we can surmise that January 2017 will most likely be the date season four will premiere but that's perhaps the earliest we'll see the shows return.
16. We got our first look at the Christmas Special - At San Diego Comic-Con 2015 Moffat gave fans their first look at this year's Christmas Special, which is a standalone episode that takes place in Victorian times. Check it out below:
17. Moffat talks darker tone - During the "Sherlock" panel at SDCC '15 Moffat talked more about the darker tone of season four saying,
"We've got a clear idea of what we're going to do and it's going to be a clear shift in tone," Moffat said.
But whatever that "dark stuff" is, the series creator said that there will still be a lot of jokes, interesting espionage activities, as well as other fun stuff.
"It's dark in some ways – obviously it's great fun and a Sherlock Holmes romp and all that – but there's a sense of things coming back to bite you," the series creator added.
18. More details about the X-Mas special episode - Moffat announced that they will release the special one-hour episode in select theaters and TVs soon. The series creator also described the challenges in writing the episode as the original "Sherlock" novels did not have a lot of speaking lines for women.
© 2023 Latin Times. All rights reserved. Do not reproduce without permission.