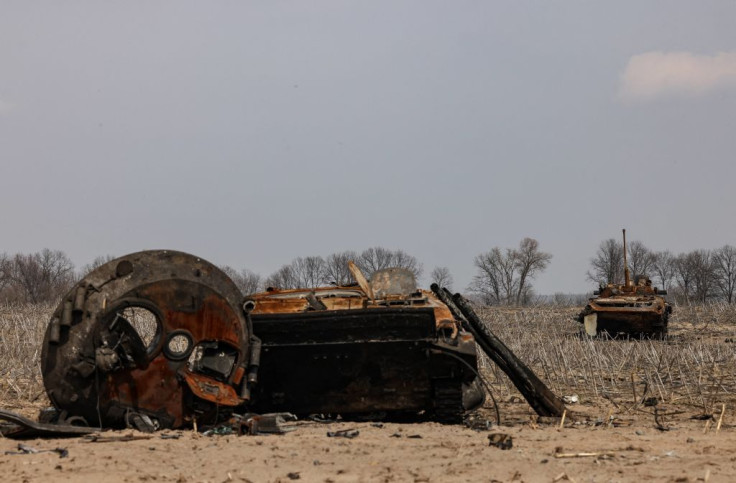 A Russian woman has been heard telling her soldier boyfriend to rape Ukrainian female locals in a phone call intercepted and posted by Kyiv's security services.
The 30-second audio clip of the conversation was reportedly posted to the Telegram channel of the Security Service of Ukraine (SBU) Tuesday. The audio clip has a blue and yellow title, "SECURITY SERVICE INTERCEPT: Wives of Russian invaders allow their men to rape Ukrainian women."
"Wives of Russian aggressors call on their husbands to rape Ukrainian women," the agency uploaded on Telegram together with the clip. "This shocking interception by the SBU reflects the moral values ​​not only of the occupiers but also of their relatives, 80% of whom now support the war in Ukraine," the description of the recording said.
A woman's voice can be heard, "So yeah, do it over there," it becomes clear what she is pointing to. "Ukrainian women there. Rape them. Yeah. Don't tell me anything, understand," she continued with a shy laugh.
A man's voice replied, "Uh-huh," seemingly agreeing. "So I should rape and not tell you anything," he asked, clarifying that the woman is permitting him. "Yes, so that I wouldn't know anything. Why do you ask?." The man then asked once again "Can I really?," in which the woman continued with, "Yeah, I allow you. Just use protection."
The release of the shocking audio clip came after Ukraine's president Volodymyr Zelensky accused Russian troops of carrying out "hundreds of rapes" including sexual assaults on children. One Russian soldier has been arrested after allegedly recording himself abusing a Ukrainian baby.
Ukrainian rights group informed the UN that rape is being used as a weapon of war by the Kremlin. Kateryna Cherepakha, president of La Strada-Ukraine, said her organization's emergency hotlines had received calls accusing Russian soldiers of nine cases of rape involving 12 women and girls.
"This is just the tip of the iceberg. We know and see - and we want you to hear our voices - that violence and rape is used now as a weapon of war by Russian invaders in Ukraine." An 11-year-old boy is reportedly among the alleged victims, he was said to be raped by Russian troops in front of his mother who was tied to a chair and forced to watch.