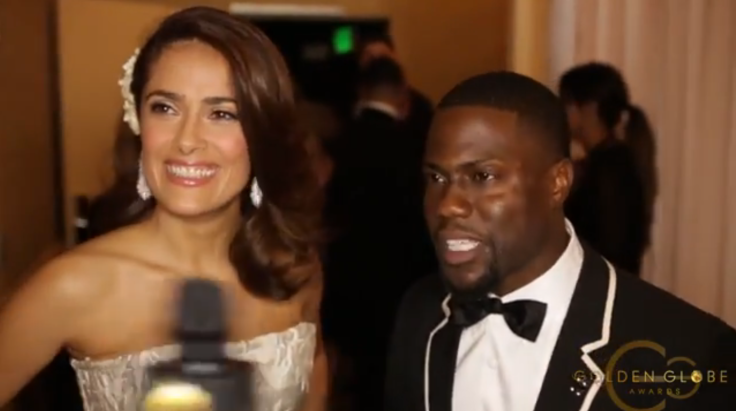 It's a tricky thing to decide if an award ceremony is the place and time to bring up politics. Some think, "If not then and there, when?" and some think, "It's a celebration." But after what happened in Paris last week, when terrorists attacked and killed 12 people, including EIC Charlie Hebdo, and four of the weekly satirical magazine's cartoonists, the entertainment and creative industries were extremely shaken and many artists showed their support and solidarity at the Golden Globes. Amal Alamuddin attached a pin saying #JeSuisCharlie on her clutch, Kathy Bates's phone case said had the same hashtag and of course, Mr. George Clooney brought up the tragedy at the end of his acceptance speech for the Cecile B. DeMille award.
Being that Salma Hayek has basically being called "France's First Lady" for being married to fashion mogul François-Henri Pinault, viewers expected her to show some sort of support with the country. Clooney mentioned it had been a big day in France as people all over were marching all over protesting and showing support for freedom of speech. However, Hayek's presenting number was not only super awkward alongside Kevin Hart, but she said nothing about the situation in Paris, and that seemed to disappoint people.
Additionally, others expected Iñárritu to mention something about the 43 missing students, but that didn't happen either. Perhaps he was expecting to win other awards that same night and would've taken the chance to do so. But, as previously mentioned, it's difficult to know if award shows are the right platform to express political views, but the situation in France (as well as the Sony hack) does concern the entertainment industry because of the nature if the events. Both are attempts to threaten freedom of speech and creativity.
Do you think more Salma should've taken a second to at least acknowledge what France is going through?
© 2023 Latin Times. All rights reserved. Do not reproduce without permission.