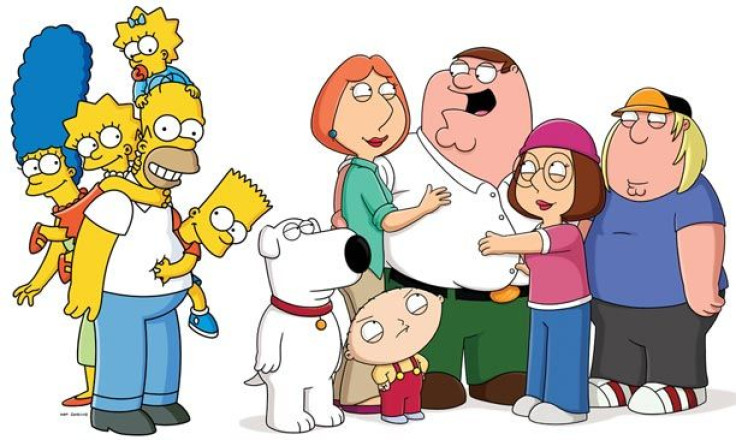 Fox's favorite cartoon families are set to pay each other a visit -- and not just through casual nods and snarky jokes in their own respective time slots. Fox announced a crossover show entitlted "The Simpsons Guy" where the animated clans meet will hit airwaves in fall of 2014, Entertainment Weekly reported. The only canonical piece of information about the episode is that Peter Griffin will be taking his non-yellow family to Springfield. The announcement has since generated loads of potential plotlines, including but not limited to, Bart and Stewie teaming up for misadventure and Homer and Peter sipping beers and arguing about the merits of their beloved brews: Pawtucket and Duff, Gothamist reported.
Both shows air Sunday nights and have been in big competition for ratings. The rivalry started in 1999 when "Family Guy" first aired. After a while, both creators began inserting sneaky jokes about the other in their episodes. The rivalry has become friendlier in time, causing fans to have speculated about this crossover for some time now. In October of last year, Dan Castellaneta, the voice of Homer, even appeared for a one-liner in an episode of "Family Guy," with Seth McFarlane, creator of "Family Guy," making a cameo appearance in "The Simpsons" season 24 finale.
"Matt's just a cool guy, and fortunately neither of us was ruffled by any of that stuff," McFarlane said of "Simpsons" creator Matt Groening in a DVD commentary segment for "Family Guy."
The episode may not be due for a while and details may be fuzzy, but what are your thoughts? Will you tune in for this meeting of the minds?
© 2023 Latin Times. All rights reserved. Do not reproduce without permission.