A skydiving instructor was reportedly killed, and his student left injured, in a freak accident after their parachutes failed to open properly during a dive in Houston, Texas on Saturday, Feb. 19.
The accident happened at around 12:30 p.m. on Saturday, Feb. 19, in a residential area in the 1600 block of Kitty Hawk Drive while the unnamed Skydive Houston instructor and his student were performing a tandem jump, which involves both people jumping from a plane while strapped together, Daily News reported.
Following the accident, the victims were both airlifted to an area trauma center for immediate treatment. The instructor later succumbed to his injuries at the facility. Meanwhile, the female student's injuries are considered to be non-life-threatening.
A witness named Alex Arias, who lives in the neighborhood where the victims fell, claims he saw the victims struggling with their parachutes during their descent, KPRC-TV reported.
"He let off his primary and then the secondary shoot like opened halfway up so he didn't fall like a straight fall, he was like 50 percent shoot, like a corkscrew," said Arias.
When Arias rushed over to help, he found the male instructor unconscious and the woman awake and asking for help.
"Skydive Houston, along with the greater skydiving community at large, is deeply saddened by the loss of our tandem instructor and friend. Our sincerest condolences are extended to his friends and family. We continue to pray for a full recovery for the injured tandem student," the company said in their statement following the accident.
Skydive Houston boasts on its website of offering a "safe, friendly and welcoming atmosphere for people to experience the thrill of human flight." The skydiving equipment used at Skydive Houston was found to be the same tandem parachute system used by the U.S. Special Forces.
Following the incident, jump operations have been suspended at Skydive Houston, pending investigations by local law enforcement and the Federal Aviation Administration.
In a similar but unrelated incident, a Florida man who was attempting to break a Guinness world record for skydiving reportedly died in a freak accident while preparing to do a tandem jump from 41,000 feet over Memphis, Tennessee late last year, Latin Times reported.
Thomas Noonan III, 47, the chief technical director of Everest Skydive, who has several certifications as a United States Parachute Association (USPA) tandem instructor and advisor, died after he lost consciousness due to hypoxia while he was attempting to jump from a height of 41,000 feet over Memphis, Tennessee, on Oct. 16, 2021.
Noonan and his friend Jim Wigginton, 72, along with two solo jumpers, an oxygen manager, a videographer, a jumpmaster, and the pilot, were about to attempt to break the Guinness world record for the highest tandem skydive when Noonan's foot got stuck while heading out of the plane.
However, before Noonan and Wigginton jumped, the oxygen system malfunctioned and everyone in the plane began to experience hypoxia, a state in which oxygen is not available in sufficient amounts. After the plane landed, Noonan was transported to a nearby hospital but was pronounced dead on arrival.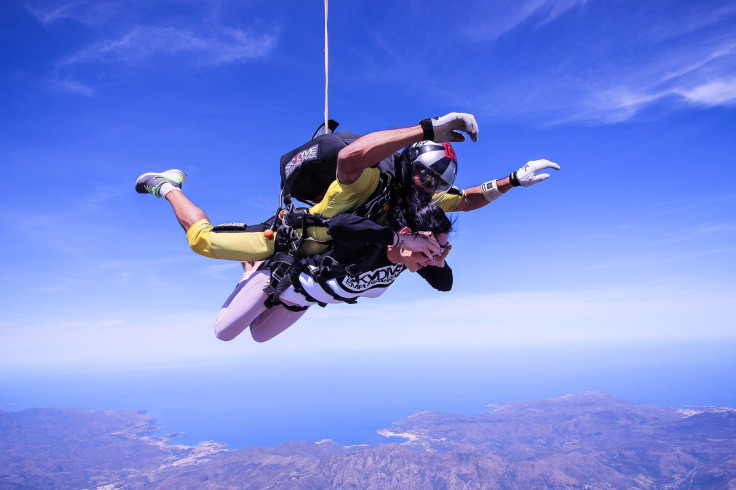 © 2023 Latin Times. All rights reserved. Do not reproduce without permission.