An inquest into the death of Christopher Swales is slated on June 29 following a hard landing during a tandem skydive near the Grand Canyon in Arizona in September 2019.
The 55-year-old North Yorkshire man sustained serious injuries following the fatal accident, which also left his military-trained instructor Matthew McGonagle, 34, with a broken leg, the Yorkshire Post reported.
The tandem leap had been a 30th wedding anniversary gift from Swales' wife.
Paramedics were called shortly before 10 a.m. to perform life-saving measures on Swales. However, the victim later succumbed to his injuries, pronounced dead by doctors from the nearby Flagstaff Medical Center. McGonagle was also taken to the hospital for treatment.
Investigators unraveled that the fatal leap was done when winds were at 27 mph, which is more than 2 mph above what would have been authorized for a jump in the UK.
Paragon Skydive, the company in question, had distanced itself from the accident. They instead accused McGonagle of "panicking" and turning too sharply when he missed the landing zone.
"All the equipment was functioning 100 percent correctly," a company spokesman declared. "It was maintained according to the regulations."
However, police who examined the equipment discovered tears in the parachute, which had been sewn with "numerous" patches to cover the holes, the New York Post noted.
The series of holes were then "circled with a pen to track movement, or continuing tear, of the material," according to authorities.
"The skydive reportedly had been going as planned until they encountered difficulties when approaching the landing area," the Coconino County Sheriff's Office said in a statement. "These difficulties caused the pair to free fall for an unknown distance and hit the ground in what was described as a hard landing."
Police initially launched their investigation but concluded there was no evidence pointing that the incident is criminal, deeming it accidental, the ABC reported. New findings on the parachute's flaws sparked the opening of the inquiry to scrutinize the company's failure to ensure their equipment is up to scratch.
Swales, who reportedly owned a joinery firm in Harrogate, had been traveling the U.S with his wife Deborah before his death. His 53-year-old wife declined to comment on the matter.
An inquest into Swales' death is scheduled at The Old Courtroom in Northallerton at 10 a.m. on Monday, June 29.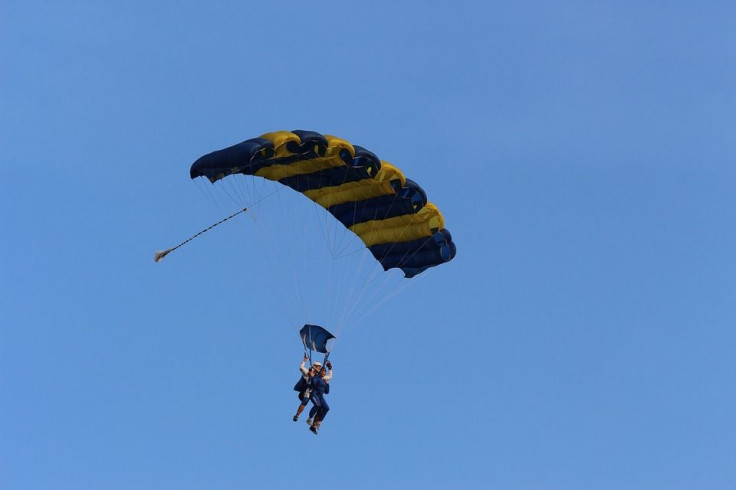 © 2023 Latin Times. All rights reserved. Do not reproduce without permission.