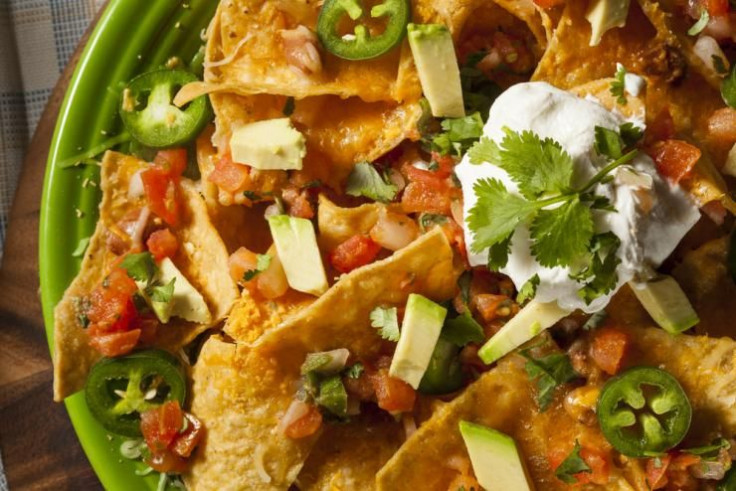 Super Bowl 50 is quickly approaching, which means that if you are like me, you are only concerned with what you are going to eat while the rest of your friends watch the game. Any and all football Sundays serve as a great excuse to indulge in delicious and extra greasy treats, but this is the mecca of all football Sundays because it's the Super Bowl, so wave goodbye to your average snacks and hello to the most delicious snacks your mind can think of. That's right, we are spicing up your Super Bowl Sunday and treating you to amazing and authentic recipes for chips and guacamole, nachos and 7-layer taco dip.
Is your mouth watering yet? If yes, please scroll down to see what delicacies await, if not, there is no hope for you.
Homemade Corn Tortilla Chips
Let's start with the basics, you can't be eating amazing guacamole on just your average store bought Tostitos! A guac is only as good as its chip and that's why we are kicking off Super Bowl Sunday with a batch of homemade tortilla chips!
Ingredients
16 corn tortillas
2 tablespoons safflower, sunflower, or grape seed oil (high-heat oil for frying)
1 teaspoon fine grain sea salt, or more, to taste
2 limes, juiced
Directions
Preheat your oven to 400 degrees Fahrenheit and take out 2 large rimmed baking sheets. Cut each cooked tortilla into 4 segments and brush each side very lightly with oil. A pastry brush works great for this. Place oiled chips on the baking sheets in a single layer and sprinkle salt over top. Bake for 8 to 11 minutes until golden brown and crispy. They will crisp even more as they cool. For a lime-salted version, as soon as the chips come out of the oven lightly spritz (with your fingers) all of the chips with fresh lime juice. Let fully cool.
Recipe courtesy of Food 52
Guacamole
Now that we have chips, we need guacamole. There is nothing more refreshing and delicious than homemade guacamole, even if your friends are super invested in the outcome of Super Bowl XLIX, they will certainly take a break for this.
Ingredients
4 ripe avocados, peeled and seeded
½ tsp. ground cumin
1 ripe, medium tomato, seeded, diced
½ cup minced sweet white onion
2 serrano chilies, seeded and minced
½ cup cilantro, chopped
4 Tbsp. fresh lime juice
Hot pepper sauce
Sea salt, to taste
White pepper, to taste
Directions
Cut avocado in large chunks and mash coarsely in large bowl with a fork. Add remaining ingredients and blend gently; leaving some small chunks is fine. Taste and adjust seasoning with more pepper sauce, salt and pepper if desired.
Recipe courtesy of California Avocado
Nachos
Next up is nachos, which are not necessarily considered authentic Mexican food. However, they are delicious and we at the Latin Times love them no matter what! The recipe we have decided to share with you is from The Pioneer Woman, they are meaty and hearty while still be fresh and tasty!
Ingredients
1 Tablespoon Olive Oil
1 whole Yellow Onion, Diced
2 pounds Ground Beef
1/2 teaspoon Chili Powder
1/2 teaspoon Paprika
1/2 teaspoon Cumin
1/4 teaspoon Crushed Red Pepper
1/2 teaspoon Salt
1/2 teaspoon Pepper
1 can (14-5 Ounce) Pinto Beans, Chili Beans, Or Ranch Style Beans
1/2 cup Hot Water
Tortilla Chips
1-1/2 cup Grated Cheddar Cheese
1-1/2 cup Monterey Jack Cheese
6 whole Tomatoes, Diced
1 whole Jalapeno, Diced Finely
1/2 bunch Cilantro Leaves, Chopped
Juice of 1 Lime
1/2 teaspoon Salt
1 whole Avocado (pitted And Diced)
Sour Cream (optional)
Directions
In a skillet over medium-high heat, add the olive oil and half the onion. Cook it until starting to soften, then add the ground beef. Cook the meat until it's totally browned, then drain the fat. Add the chili powder, paprika, cumin, crushed red pepper, salt, and pepper and stir to combine.
Add the beans and hot water and stir. Reduce the heat to low and simmer while you prepare the other ingredients. To make the pico de gallo, combine the other half of the onion with the tomato, jalapeno, cilantro, lime juice, and 1/2 teaspoon salt. Stir it together and set it aside. To build the nachos, place a layer of tortilla chips on a platter or plate. Top with a layer of the beef/bean mixture, then all but 1/4 cup of the cheddar cheese.
Add another layer of chips, another layer of the beef/bean mixture, and the Monterey Jack cheese. Add a final small layer of chips, then a small layer of beef and beans, then a final sprinkling of cheddar. Microwave in 45 second increments until the cheese is melted and bubbly. (You may also place the platter into a 325 degree oven if it's heatproof. Just leave it in until the cheese is melted.) Immediately sprinkle on the diced avocado and plenty of pico de gallo. Add dollops of sour cream here and there, if you wish and serve immediately!
7-Layer Taco Dip
Our last recipe will absolutely give you heart burn, but what is pleasure without pain? 7-layer dip is such an awesome and quick appetizer to assemble, while also being an absolute crowd pleaser, its seven full layers, there's literally something for everyone!
Ingredients
1 (15-ounce) can refried beans
2 tablespoons hot sauce
Extra-virgin olive oil, for drizzling
4 scallions, cut into 1 inch pieces
1 (16 to 18 ounce) jar green chili or tomatillo salsa
2 tablespoons chopped cilantro, a palm full, chopped
1 (15-ounce) can black beans
2 teaspoons ground cumin, 2/3 palm full
1 (16 to 18 ounce) jar chipotle salsa
2 cups sour cream
1 lime, zested and juiced
2 ripe avocados
2 cloves garlic, finely chopped
1 lemon, juiced
1 jalapeno, seeded and finely chopped
Salt
2 plum tomatoes, diced
Pimiento stuffed jumbo Spanish olives, chopped
Directions
Heat refried beans in small nonstick pan over medium heat and season with hot sauce. Transfer the beans to a small, deep casserole dish. Scrape pan clean with rubber spatula and return to heat. Add a little extra-virgin olive oil to the pan and raise heat to high. When the oil smokes, add the scallions and sear them, 2 to 3 minutes. Add green salsa to scallions and heat through. Add cilantro, remove salsa from heat, and layer on top of the beans. Return the same pan to the stove, lower heat to medium and add black beans, heat through and season with cumin, layer on top of the green salsa. Top the black beans with a layer of chipotle salsa. Mix sour cream the lime zest and juice and spread on top of the chipotle salsa. Combine the meat of 2 ripe avocados with garlic, lemon juice, jalapeno and salt to form a chunky guacamole. Top the salsa with guacamole. Garnish the dip with the final layer of diced tomatoes and sliced olives. Serve with tortilla chips.
Recipe courtesy of Rachel Ray
© 2023 Latin Times. All rights reserved. Do not reproduce without permission.