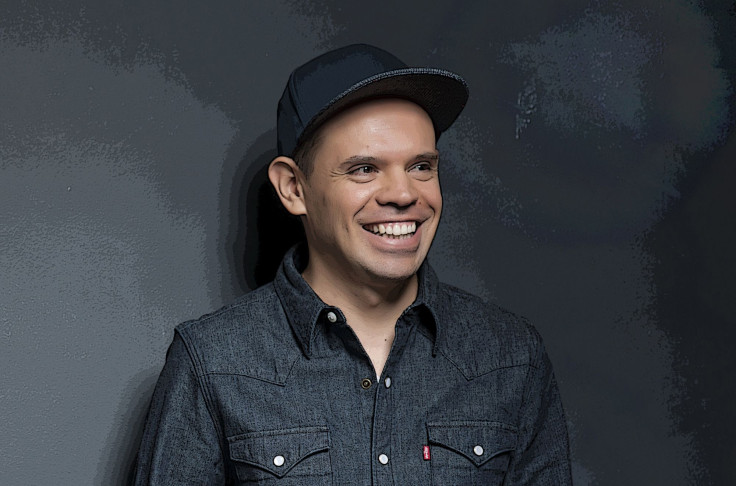 Cesar Zapata is the chef and owner of the critically acclaimed restaurant, The Federal Food, Drink and Provisions in Miami. He is opening his newest restaurant, a Vietnamese inspired concept called Phuc Yea!, in early 2016. Cesar gives us his take on preparing for the Super Bowl with some Latin twists, and shares one of his favorite recipes, the Smoky Black Bean Burger. Now, he is sharing his experience, recipes and best tips to host the most amazing Super Bowl party this year.
How do you usually celebrate the Super Bowl?
As a chef, the most important thing at my Super Bowl parties is the food. The night before, I gather all my ingredients: whole pig, stone crabs, rock lobster, potato chips, caviar and, very importantly, beer. The next morning, I light up the Caja China, a special outdoor roasting oven, to cook the pig, start cracking the stone crabs, cook the lobster, and set up a table with dips, chips, and caviar. Once it's game time, and people have started to drink, I get the bets going.
What are some unique tips for giving the Super Bowl a Latin flavor?
I like to use a Caja China in order to roast a whole pig. Of course, if you don't have access to one, you can also roast it the traditional way. I also like my dishes to be full of flavor. I always add a little Tabasco Chipotle and Tabasco Jalapeño to complement my marinades, which adds a little Latin spice.
How can readers upgrade the usual Super Bowl staple, such as hamburgers?
I've taken the classic frita, or Cuban hamburger, and added my own twist. I use Colombian chorizo, ground beef, matchstick potatoes, onions, barbecue sauce and Tabasco Chipotle. For a vegetarian option, I cook up my Smoky Black Bean Burger, a very flavorful recipe with an added kick that's perfect for the Super Bowl.
What are some Latin inspired-beverages that you would recommend serving at a Super Bowl?
Some of my favorites are Chicha Morada, a Peruvian purple corn drink with cinnamon and other spices; Horchata, a rice based drink with cinnamon and, of course, Refajo made with a Colombiana Kola and a pilsner beer.
What have you learned about cooking that you didn't know before you opened your restaurant?
The beauty about my career is that I learn something new every day!
Check out Zapata's recipe for 'Smoky Black Bean Burgers'
Black Bean Burger
1 (15-ounce) can black beans, rinsed, divided
4 ounces cremini or button mushrooms, chopped
1 medium shallot, chopped
6 pickled jalapeño peppers, sliced
2 tablespoons house barbecue sauce, plus more for serving
2 tablespoons Tabasco Chipotle Pepper Sauce
1 teaspoon ancho powder or chili powder
1/2 teaspoon ground cumin
1 cup oats
1/3 cup cooked white long-grain rice
1 large egg white
Kosher salt
Freshly ground pepper
How to:
Set aside 1/2 cup black beans. In a food processor, pulse remaining black beans, mushrooms, shallots, jalapeño peppers, barbecue sauce, Tabasco Chipotle Sauce, ancho or chile powder and cumin until a chunky purée forms.
Transfer purée to a medium bowl and mix in oats, rice, egg white and reserved beans; season with salt and pepper.
Form mixture into patties about 1/2-inch-thick, cover and chill for 1 hour.
Heat a pan to medium-high; add a touch of olive oil and sear patties on both sides until crisp.
Rajas
1 pound poblano peppers
2 ounces extra virgin olive oil
Salt and pepper, to taste
How to:
Preheat oven to 450°F or heat a broiler, charcoal grill to medium-high or gas grill to high.
For the oven or broiler, mix peppers, oil, salt and pepper in a large bowl; place on a rimmed baking sheet. For a grill, oil grill grate and place peppers directly atop. Roast 15 to 20 minutes, turning occasionally, until tender and charred. Transfer to a large bowl, cover with plastic wrap and let steam for 15 minutes. Peel peppers and slice in half; discard seeds and slice crosswise into 1/4-inch strips.
Corn Relish
1/4 cup shucked roasted corn
1 tablespoon thinly sliced chives
2 tablespoons olive oil, plus more for cooking of burgers
Black pepper, to taste
4-6 brioche or potato buns
8 slices Pepper Jack cheese
How to:
In a bowl, combine all ingredients and season with black pepper.
Toast buns on the grill or oven. Place patty on bun and top with cheese, roasted Rajas and Corn Relish. Serve with extra barbecue sauce.
Check out the delicious, final result: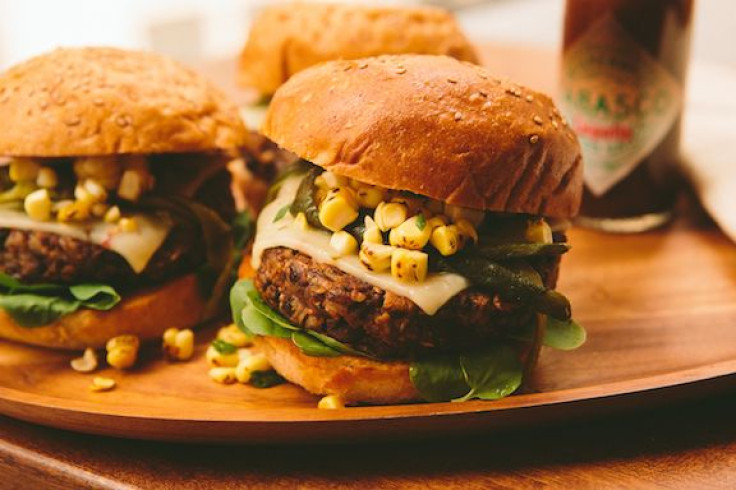 © 2023 Latin Times. All rights reserved. Do not reproduce without permission.