Super Bowl is right around the corner and if you were thinking about hosting a viewing party, you need something to share with your guests. Here are four classics with a twist: a super seasoning line of flavor blends that enhance natural and delicious spices to your food called ZAS!
The recipes include some options to indulge, as well as an option for health-conscious guests like the avocado chili lime roll. Enjoy with your loved ones and add a little spice to your Super Bowl party!
Mango Chili Jerk Wings - Caribbean flavors come together for these delicious wings that are both sweet and tangy. This is easy to prepare and perfect for a main dish at your Super Bowl Party.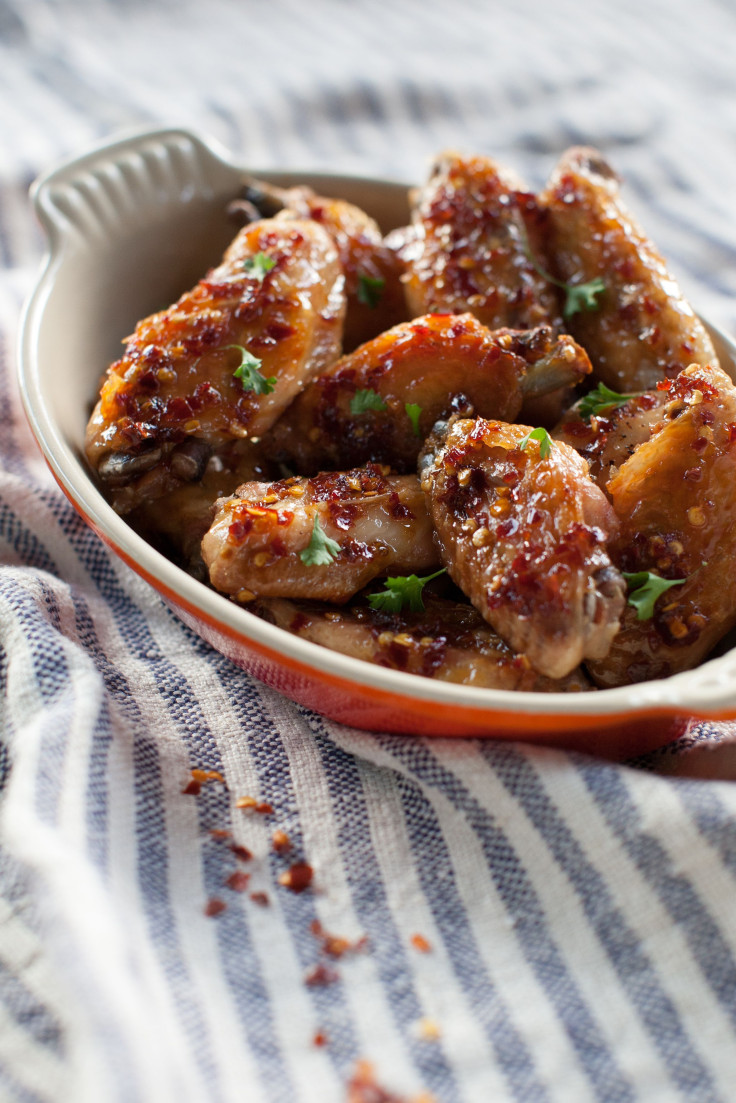 This recipe combines fun ingredients together for a Caribbean flavor experience. These indulgent wings are sweet and tangy with an impactful jerk flavor.
Prep time: 10 mins
Cook time: 45 mins
Servings: 6

Ingredients
3 lbs. chicken wings, cut apart at joints, wing tips discarded
½ cup orange juice, low or no pulp
1 Tbsp olive oil
1 Tbsp honey
1 Tbsp brown sugar
2 tsp allspice 1 tsp soy sauce
1 tsp garlic powder
½ tsp red pepper flakes
3 Tbsp Zas Mango Chile Super Seasoning
Instructions
1. Preheat oven to 425° F.
2. Arrange chicken wings on a baking sheet and cook for 40 minutes, turning chicken to other side halfway through.
3. While the chicken is cooking, combine the orange juice, olive oil, honey, brown sugar, allspice, soy sauce, garlic powder and red pepper flakes to a pan and stir to combine.
4. Cook the wing sauce on low for 5 minutes, then transfer to large bowl and let cool for 5minutes.
5. Once cooled, add Zas Mango Chile Super Seasoning to wing sauce and set aside.
6. After 40 minutes, turn the oven to broil and continue cooking for 5 minutes.
7. Take wings out, let cool for 5 minutes, then add to wing sauce and toss until coated.
Hatch Chile Mac & Cheese - This recipe adds regional flavor to a classic comfort dish. The earthy mild cheese will make this dish a winner at the Super Bowl.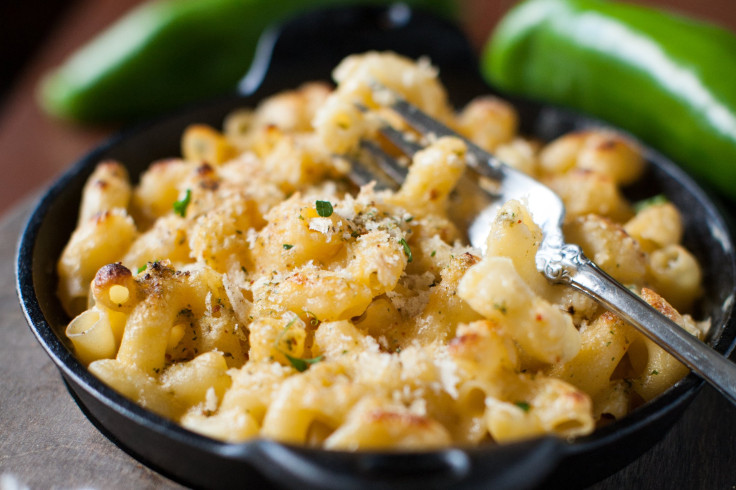 In this dish creamy cheese and roasted hatch complement each other to turn a classic dish into a new favorite.
Serving Size: 14
Ingredients:
1 lb uncooked elbow pasta
4 tbps butter melted
2/3 cup panko bread crumbs
8 oz can hatch chilis
3 tbsp flour
3 tbsp butter
3 cup Whole milk
2 cup Sharp cheddar Cheese grated
2 cup Mild Cheddar cheese grated
2 cup Colby jack cheese grated
4 tsp Zas Hatch Chile Super Seasoning
Instructions
1. Set oven to 350°F. Cook pasta according to box till Al Dente
2. In a small bowl toss together melted butter, bread crumbs and 2 tsp Zas Hatch Chile SuperSeasoning and set aside
3. In a medium saucepan melt 3 tbps butter. Add flour and whisk until roux paste forms. Slowly add milk and wisk until slight boil begins
4. Remove milk mixture from heat add in all three cheeses and 2 tsp Zas Hatch Chile Super Seasoning. Stir until melted.
5. In large bowl pour cheese mixture over cooked drained pasta and stir until combined.
6. Spray a 9X13 cooking pan and fill with macaroni. Sprinkle panko bread crumb mixture on top.
7. Bake for 15 minutes then broil for 2-3. Serve immediately.
Cucumber Avocado Chili Lime Roll - This unique appetizer is easy to make and very healthy. All ages will enjoy it.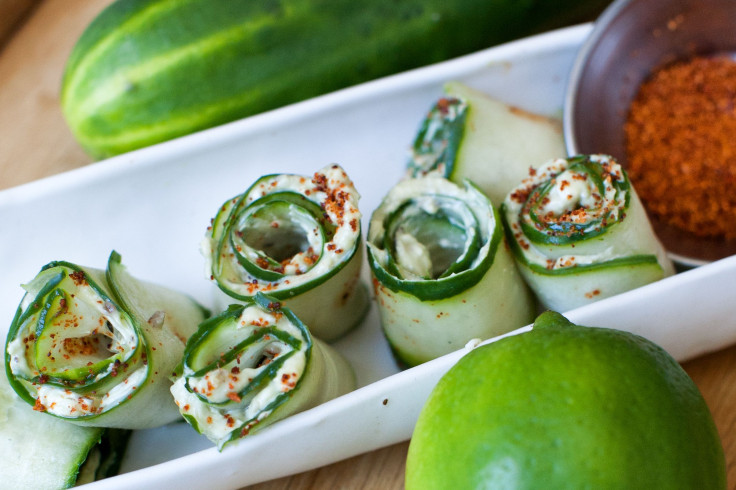 Simple ingredients, fun presentation. This appetizer is a fun and creative fingerfood with a punch of flavor that party guests will remember.
Serves: 20 rolls
Ingredients
1 Avocado
¼ of a cream cheese block (4 oz.)
1 clove garlic
2 tsp of Lime Juice
3 Tbsp of Pine nuts
1 Tbsp of Zas Chili Lime (and a dash for garnish)
1 cucumber
Mandolin or Potato Peeler
Instructions:
1. Toss all ingredients (except cucumber) in a blender or food processor. Or if you want to be traditional do it by hand, finely mince garlic and mashingredients together with a fork until smooth and creamy. Let mixture sit in a refrigerator for 10 minutes.
2. Use a mandolin or potato peeler to cut long thin strips from the cucumber. Be sure to leave the skin for pretty color.
3. Take a cucumber strip and spread a thin layer of the avocado mixture alongthe length of the strip. A little goes a long way so be mindful. Make sure thespread goes all the way to the end so that it sticks once rolled.
4. Roll it up! No toothpicks needed. Sprinkle on a dash of Zas Chili Lime Seasoning to give it more presentation.
Tamarind Glazed Baby Back Ribs - These ribs will also be a crowd favorite. Unlike normal baby back ribs, this adds an exotic sweet and tangy twist.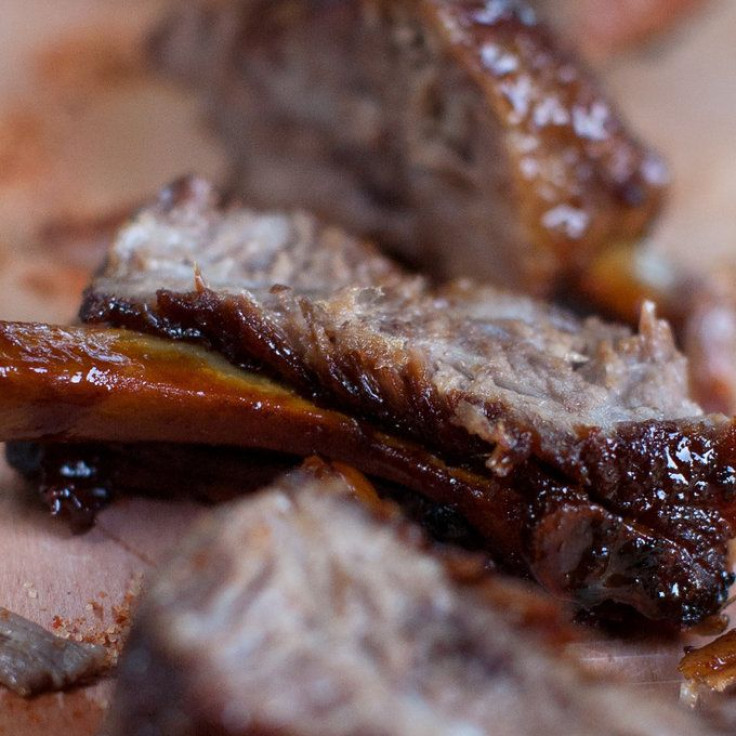 An exotic sweet and tangy twist to the classic baby back ribs. A foolproof recipe for fall-off-the-bonetender and flavorful ribs.
Prep time: 15 mins
Cook time: 2 hours
Serves: 4
Ingredients
Ribs:
1 rack pork baby back ribs
1 cup brown sugar
½ cup Worcestershire sauce
¼ cup Zas Tamarind Super Seasoning
Glaze:
¼ cup brown sugar
2 Tbsp butter
2 Tbsp water
2 Tbsp Zas Tamarind Super Seasoning
Instructions
1. Preheat oven to 350° F.
2. Combine the brown sugar, Worcestershire sauce and Zas Tamarind Super Seasoning in a medium bowl for the rib seasoning.
3. Apply the sugar mixture onto both sides of the ribs, wrap in foil, and cook in oven for 2 hours.
4. In a small pot, add the brown sugar, butter and water components of the tamarind glaze and cookon low for 5 minutes.
5. Transfer to a small bowl and let cool for 5 minutes.
6. Add the Zas Tamarind Super Seasoning to the glaze and stir to combine.
7. After 2 hours, take ribs out and let cool for 5 minutes.
8. Apply the Tamarind Glaze to the top of the ribs and serve.
© 2023 Latin Times. All rights reserved. Do not reproduce without permission.