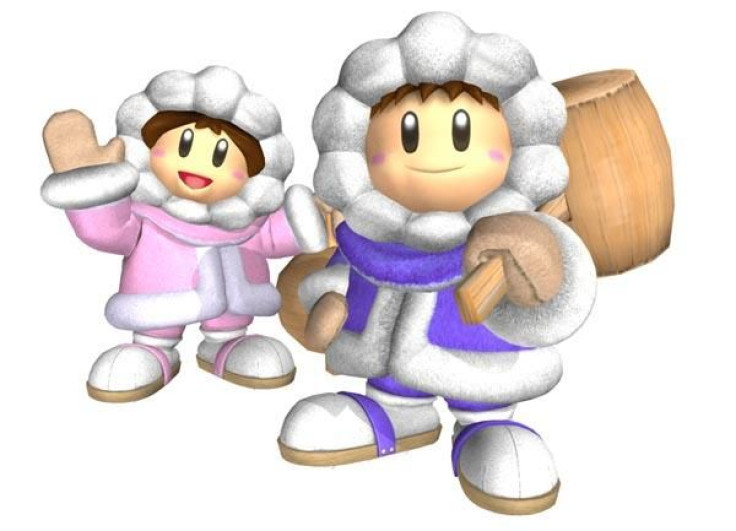 It looks like the Ice Climbers won't return to the battle in "Super Smash Bros." for Wii U and 3DS when it launches this fall. The fighters appeared in both "Super Smash Bros. Brawl" and Melee but will be skipping the latest title in the franchise and the games director Masahiro Sakurai explains why.
In the latest issue of Famitsu Sakurai addressed why the Ice Climbers would be absent from the title in his bi-weekly column. He revealed Popo and Nana didn't make the cut due to technical reasons regarding the 3DS version. Sakurai explains that the pair worked perfectly on the Wii U version but due to hardware power the two did not perform well on the handheld console.
Nintendo Life reports that while this problem most likely could have been fixed it wasn't a priority for Sakurai as the Ice Climbers really didn't need promotion since there are no real plans for the "Ice Climber" franchise. Furthermore since both games share the same characters it would be unfair to only have these characters in the Wii U version and absent from the 3DS.
Meanwhile Sakurai further delved into the separate release dates for the titles. He said that it came down to debugging and emphasized the importance of avoiding any considerable difference between both titles. Sakurai also mentioned that a simultaneous release would have most likely pushed both titles back to an early 2015 release.
In other news Sakurai's Miiverse "Pic of the Day" will continue. The games director revealed he will continue to post about the 3DS title until the Wii U version is released. He did mention that he won't mention any spoilers about the game until it is released in all regions and he will focus on fun facts about the title and keep it entertaining.
"Super Smash Bros." For 3DS has already launched in Japan and will launch in the west and Europe Oct. 3 with the Wii U version coming "Holiday 2014." Recent leaks pinpoint the Wii U release as Nov. 21 but Nintendo or Sakurai has yet to confirm the rumor.
© 2023 Latin Times. All rights reserved. Do not reproduce without permission.