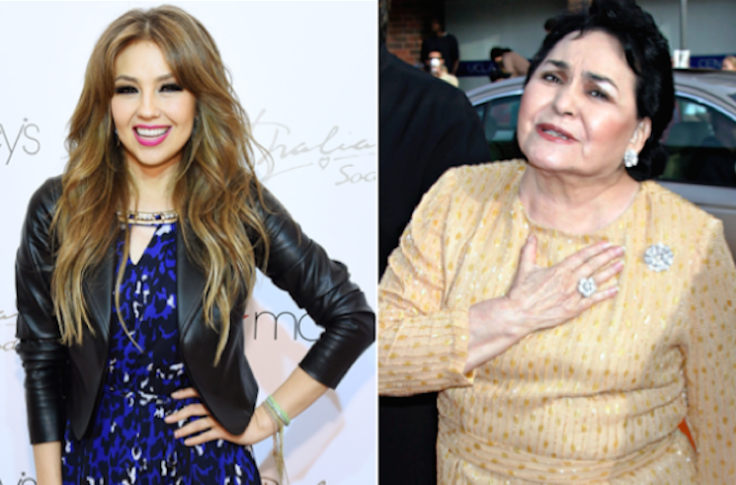 Carmen Salinas apologized to Thalía for comments made about her condition, and suggested she had no idea about the causes and effects of Lyme disease when she was asked her opinion about the singer's illness.
"Dearest Thalía, I had no idea how delicate this sickness was, they talked to me about a tick and I didn't know what it was, my apologies," the 82-year-old actress wrote on social media, according to El Nacional.
Earlier this week, Carmelita made the headlines for allegedly making fun of the "Amor A La Mexicana" performer's infection after she was informed she was battling the virus again at the beginning of the month.
"Well, she better bathe her dogs!" Salinas reportedly said during an interview. After she received a detailed explanation of what causes Lyme, she replied, "Does she have a deer in her house? You need to fumigate that field, honey, and fumigate yourself too!
When the news broke, the Mexican deputy took to Twitter and sent Sodi her blessings. "My daughter @thalia, you are in my prayers, you know I love you and miss you a lot, a kiss for your beautiful family, I hope to see you soon my dear," she penned.
Turns out Thalía didn't get the memo after all because on Monday she replied to Carmelita's remarks with a video, accompanied with a long and detailed message explaining Lyme and what it can do to people.
"@thalia darling daughter, sending you greetings, I got your message saying not to worry, our friendship and love above all. I love you," Salinas tweeted on Sunday.
It looks like despite all the commotion things will be just fine between the Mexican actresses.
© 2023 Latin Times. All rights reserved. Do not reproduce without permission.