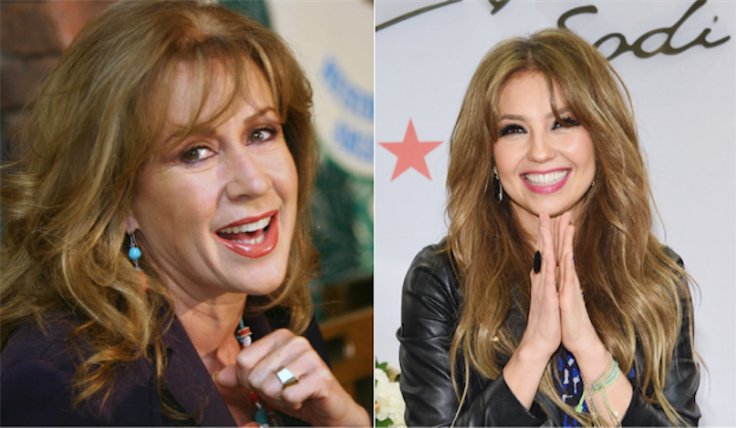 Laura Zapata was asked to share her opinion about Thalía's feud with Carmen Salinas over Lyme disease during an interview with Telemundo's "Suelta La Sopa" on Wednesday.
"Well, the thing is I don't talk to her very often," Zapata said. "So, I don't really know what it is…it's a tick that bites, stings, eats, I don't know what these ticks do […], they tackle the immune system. I remember my mom used to suffer a lot and she had to take a lot of pills during the day."
Besides admitting that she had no idea about her sister's relapse or the causes behind her illness, she confessed that she was rooting for Carmelita throughout the media argument.
"Then the chisme has gotten big! They are hitting each other even below the tongue, no? the 59-year-old actress eagerly asked reporters. When she was questioned if she was taking any sides, she added, "They know how to defend themselves. But, I think Carmelita apologized, no? Why, Carmelita, why? I was rooting for you," she joked.
Thalía, who has been battling the disease for over 8 years now, announced on social media that Lyme symptoms came back to torment her about a week ago, but that she was ready to fight the illness like a champ in order to continue promoting her new songs and her Thalía Sodi summer collection.
Zapata concluded her chat in front of the cameras by saying, "Everyone has their rock n' roll. Even though what I like I a lot, and I recently read is that sicknesses are unsolved emotions. So, we would have to find out what unsolved emotion is leading you to that sickness."
Since the actresses' mother, Yolanda Miranda, died in May 2011, Thalía, Laura, and their sisters Federica, Gabriela, and Ernestina Sodi have made the headlines several times for their on-going and never-ending disputes.
© 2023 Latin Times. All rights reserved. Do not reproduce without permission.