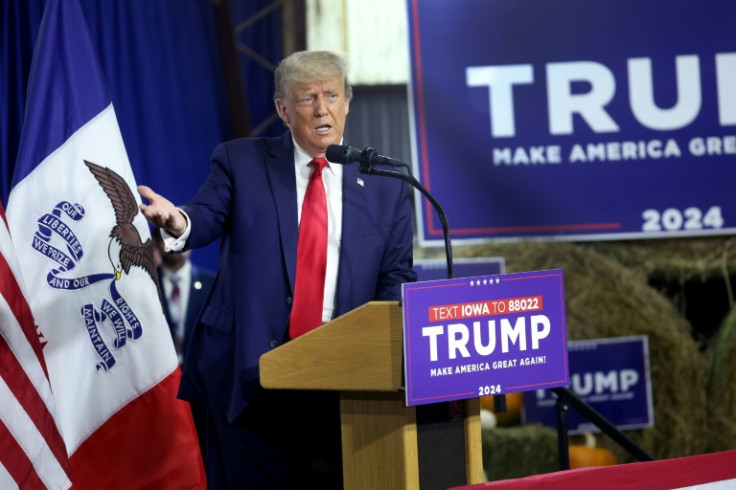 Former President Trump's team is implementing a new strategy aimed at achieving gains among Latinos, specifically targeting voters of Cuban, Venezuelan, and Colombian descent in Florida.
According to an Axios report by Sophia Cal and Martin Vassolo, the former president's team seeks to portray him as a victim of perceived socialist overreach, linking his legal challenges and clashes with Democrats to the struggles faced by many Latin Americans under authoritarian rulers who claim to be socialists.
In a recent rally to counter-program the latest Republican debate in Florida, Trump strategically chose Hialeah, a location with over 95% Hispanic residents, primarily Cuban Americans who constitute a conservative electorate aligned with the Republican party. During the rally, Trump drew parallels between his legal challenges and resistance to communism, and the experiences of Cuban Americans under Fidel Castro's regime.
Hialeah Mayor Esteban Bovo Jr., a Trump supporter, emphasized that individuals from Venezuela, Nicaragua, and Cuba understand the implications of political indictments, reflecting the targeted messaging.
Trump also granted an interview to Spanish-speaking network Univision last week, in which he tackled some issues considered a priority for many in the Latino community: border security, immigration and relations with Mexico. Trump also answered why he believes he's gaining traction with this demographic, saying that those who live in the U.S. "want security and a border."
Asked about why he believed more Latinos were identifying as conservative, he said: "It is a big honor because it has happened since I became President. They are entrepreneurial, energetic. Some of the best businesses are ran by Latinos. They want security too. They don't want people breaking into their houses. I think that is one of the reasons why they like me."
Trump has been steadily gaining support with the Latino electorate during the past decade, increasing from 28% in 2016 to 36% in 2020, according to the Pew Research Center. In 2022, Republicans got 39 percent of the Latino vote, the highest percentage since 2004.
A recent New York Times poll indicates potential challenges for Democrats, with Biden's lead among Hispanics in single digits in six swing states. Additionally, a CBS News/YouGov poll suggests that Hispanic voters are more optimistic about their finances under Trump than Biden.
Beyond Florida, Trump's team plans to extend its strategy to South Texas, Arizona, and Nevada, with Spanish-language ads focusing on the economy and border security.
Biden's campaign, recognizing the challenges its facing, recently unveiled ads targeting Cuban and Venezuelan Americans in South Florida, emphasizing his support for Hispanic small businesses and opposition to dictators. Democrats are also undertaking an aggressive campaign, particularly in swing states like Arizona, Nevada, and Pennsylvania, the report shows.
© 2023 Latin Times. All rights reserved. Do not reproduce without permission.