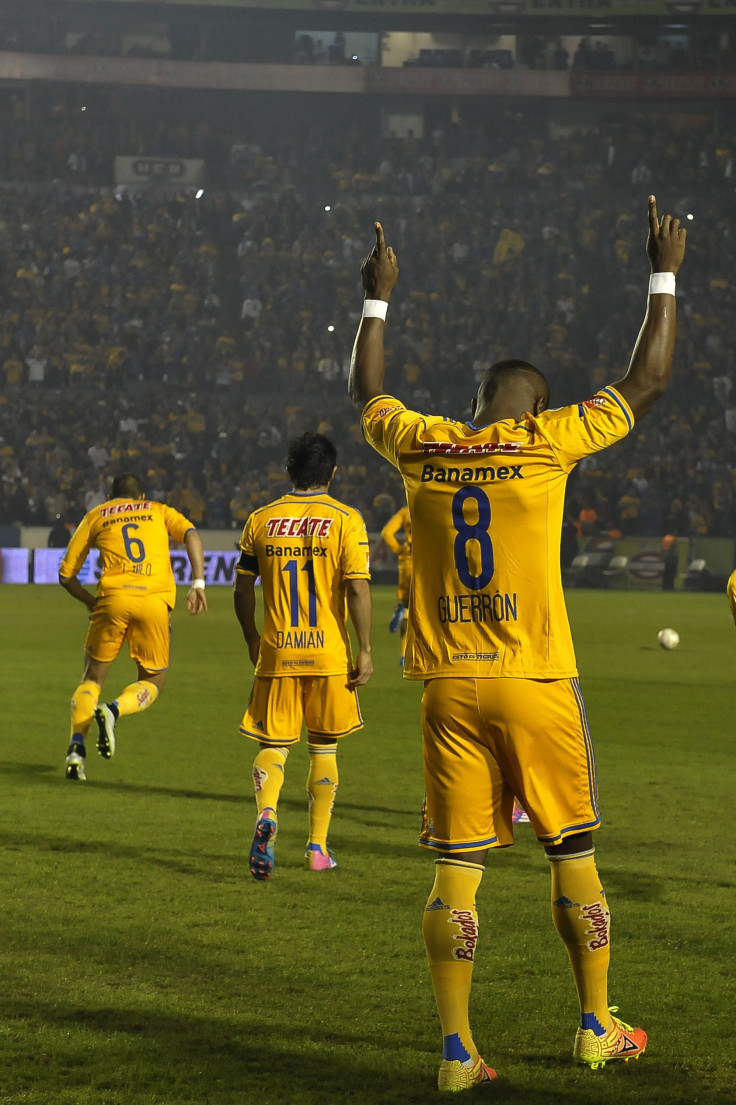 MONTERREY, MEXICO – Tigres extended their Liga MX unbeaten streak to a remarkable 15 games and proved they could finally get on the scoreboard after two consecutive scoreless draws against Toluca in the semifinals. Joffre Guerron scored a second half header that catapulted the home team to their first win in five playoff games to date and Tigres defeated rivals America 1-0 in the first leg of the 2014 Liga MX Apertura Final in the Estadio Universitario.
Ecuadorian striker, Guerron, was the hero for Tigres as he headed in the game's only goal. Damian Alvarez took possession on the left corner of the pitch in the 64th minute and sent in an incredible cross that only Guerron was able to get to which he promptly headed into the back of the net igniting the crowd and with it, Tigres chances of winning their second Liga MX Apertura Championship.
Miguel Layun had an opportunity to find the equalizer just minutes after the goal. Layun was awarded a free kick just outside the 18-yard box but he sailed it high and with it, flew the chances for America to secure the important away goal in the first leg of the two-legged Apertura final.
America's leading goal scorer in the regular season, El Tri star, Oribe Peralta, was relatively quiet in the match. Peralta was stymied by Tigres de la UANL defense throughout the match and was unable to get off a single shot while committing four fouls and being booked with a yellow card in the 28th minute. Referee Roberto Garcia Orozco was quick to blow the whistle throughout the match placing nine different players in his naughty book with yellow cards.
The match was extremely physical throughout as the referee called an astounding 36 total fouls in the game. America, eleven-time champions of the Apertura (tied with Chivas for the most all time), was the more aggressive team on offense. They were rewarded eight corner kicks, attempted eight shots, and were shown more yellow cards and fouls than their rivals from Nuevo Leon.
Tigres were happy to concede shots and corner kicks as long as they controlled possession of the ball which they did to perfection, dominating possession nearly 60 percent of the match. The possession advantage allowed Tigres to patiently wait for their opportunities and when they did, they were more accurate and more precise as over 75 percent of their shots were on target.
The final now moves to Mexico City where the final match of 2014 will take place at the Estadio Azteca on Sunday. America will need to outscore Tigres by at least two goals at home to have any chance of lifting the trophy and becoming the most decorated club in Mexican soccer history. The game is scheduled to kick off at 7:00PM EST on Univision.
© 2023 Latin Times. All rights reserved. Do not reproduce without permission.