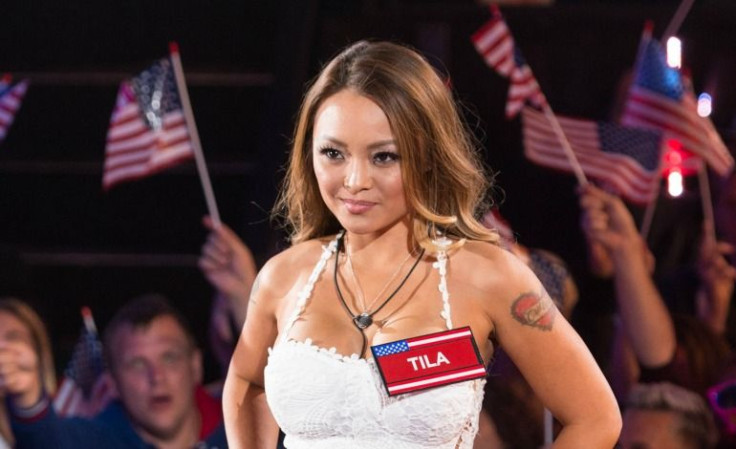 Tila Tequila has done it again! Not only did she recently throw shade at Jennifer Lopez on Twitter, saying "she's just a Mexican with money," but now she has targeted undocumented immigrants.
Her Twitter account was shortly removed following the unnecessary remarks about JLo (who by the way, is Puerto Rican, Tila!), but is now back up. There, and on Facebook, the 34-year-old, mother-of-one reality star continues her racist rant, showing off her true colors in a degrading post about immigrants.
"Ain't nuthin better than riding around Texas in my cowboy boots to hunt down these damn illegals! #SendThemBack," she posted early Tuesday.
With over 33K reactions and over 15K shares, her post has gone viral, becoming the most-viewed, most-commented and most-shared on her social media platform in a while. We're not sure if this is her way of "keeping relevant," but she has definitely crossed the line and lost many of followers in the process.
We're wondering if the former "A Shot at Love with Tila Tequila" star, whose real name is Thien Thanh Thi Nguyen, forgot she's an immigrant herself. Tila was born in Singapore after her family emigrated from Vietnam fleeing the Vietnam War. They later relocated to Houston, Texas, where Tila was raised.
This is how some people on the Internet are reacting to her racist rant. What are your thoughts?
-How well do you know history of the Mexicans? If you read from time to time your dumb ass would know you, me and all these Europeans you ride for are illegals. Mexicans were natives of Texas before the land was taken from them. Dumb ass b**ch. Go read a damn book you sl*t. smh - David G. Mitchell
-1) Your last name is Nguyen, you are non-american but asian. 2) Mexicans were natives of Texas. 3) Your boots are not cowboy boots. 4) Your "artistic" name is Tequila, one 100% mexican product. 5) The racism is the worst of one can have in the heart. 6) We'll need to share your pic to let the world knows what you are. - Ernesto Delgado
-What makes us Mexicans special is that when you ofend one of us you ofend all of us , so when "illegals" Mexicans are discriminated against, us legal Mexicans unite with them. We are the voice of those that can't defend themselves. See y'all at elections ... Y Viva Mexico Cabron! - Daisy Castanon
© 2023 Latin Times. All rights reserved. Do not reproduce without permission.