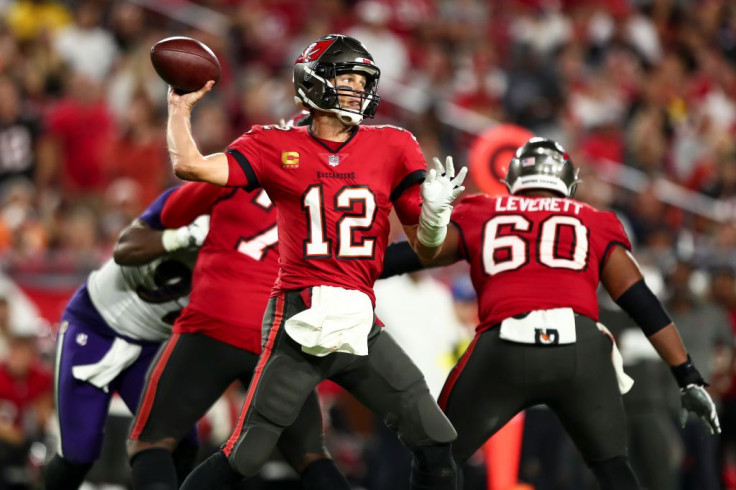 The Buccaneers have struggled all season to play good, consistent football. After being legit title contenders in the past two seasons, the Buccaneers will be fighting just to make the playoffs this season. They are 3-5 this season after a Thursday Night Football loss to the Ravens and in second place in the NFC South.
Here are five things that have gone wrong for the Buccaneers this season:
Brady Is Struggling
Tom Brady is the greatest quarterback to ever play the game but he hasn't lived up to that standard. He has a QBR rating of 92.4, which would rank 12th among all quarterbacks. It's understandable that there would be some drop-off for the 45-year-old, but the drop in performance has contributed to the Buccaneers' struggle. Many have questioned if his head has been in the game this season and now the latest is he is "amicably divorcing" from his wife Gisele Bündchen.
2. Running game has faltered
Runningback Leonard Fournette seems to have lost a step, just averaging 3.4 yards per carry on the season. In the Bucs' last game against the Ravens, he averaged a lowly 2.7 yards per carry against a defense that is susceptible to the run. The offense as a whole has seeminly lacked cohesion all season and part of that could be due to the Bucs new coach Todd Bowles.
3. Offensive line has been inconsistent
The key to most offenses is a strong offensive line. Being able to give the quarterback as much time to make a decision, usually results in good things happening. The offensive line has three new starters this season and they have largely been up and down. The Bucs haven't really had time for plays to develop.
4. Injuries to defensive secondary
The Bucs starting secondary was largely injured coming into Thursday's game against the Ravens. Carlton Davis, Sean Murphy-Bunting, and Antoine Winfield Jr. were all out. It's hard to win when so many starters are out to injury. Logan Ryan was already on the injury reserve. The Bucs' secondary has suffered injuries and they haven't really been able to recover.
5. Can't stop the run game
The Bucs also haven't been able to stop the run game from opposing teams. The Ravens were the fourth teams this season to tally over 150 yards against the Bucs this season when they finished with a whopping 231 rushing yards. The Buccaneers have just struggled in essentially all aspects of the game and that has led to poor play all season long.
© 2023 Latin Times. All rights reserved. Do not reproduce without permission.