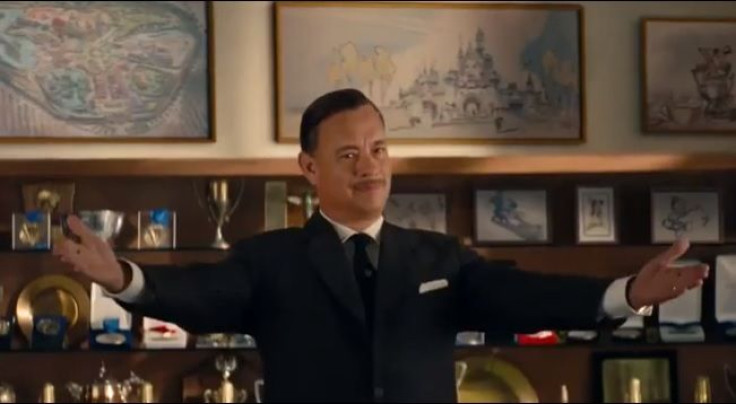 Walt Disney will be brought back to life when Tom Hanks assumes the mantel of Walt Disney, the creative mind behind the beloved character Mickey Mouse and countless other films.
In "Saving Mr. Banks" Tom Hanks A.K.A Walt Disney is trying to win over author P.L Travers played by Emma Thompson. Travers wrote the beloved "Mary Poppins" books and Walt Disney is hoping she will give him the rights to turn the books into a movie.
P.L Travers is connected to Mary Poppins in a way Mr. Disney cannot understand. Equipped with Walt Disney's classic mustache Hanks tries to persuade Mrs. Travers to allow the film to be made.
In the trailer Disney tries to charm the author into handing over the rights to "Mary Poppins" by telling her he promised his two young daughters he would bring "Poppins" to life one day.
Unmoved by his promise Travers leaves Disney's office leaving the movie tycoon and builder of Disneyland stunned.
Travers is afraid that Disney will turn "Mary Poppins" into a "cavorting and twinkly" Tinkerbelle type character. Disney questions Travers about this saying she was the one who created a flying nanny that saves the children.
Travers becomes less enthusiastic about Disney creating this movie because he does not realize that the nanny is not there to save the children.
As the trailer progresses the viewer learns that "Mary Poppins" was a real person. She was Travers nanny and helped her family by saving her father.
This was the first trailer for "Saving Mr. Banks." Disney will release the film around Christmas 2013.
HOT NEWS NOW
'The Newsroom' Season 2 Spoilers: Find Out What Sunday Night's Premier Has In Store For The 'News Night' Crew! [VIDEO]
'Burn Notice' Season 7 Episode 5 Spoilers: Michael Westen Is Back In Miami; What Does His Future With Fiona Look Like? [VIDEO]
Recipe Of The Day: Chickpeas With Chorizo And Jalapeno Peppers
© 2023 Latin Times. All rights reserved. Do not reproduce without permission.