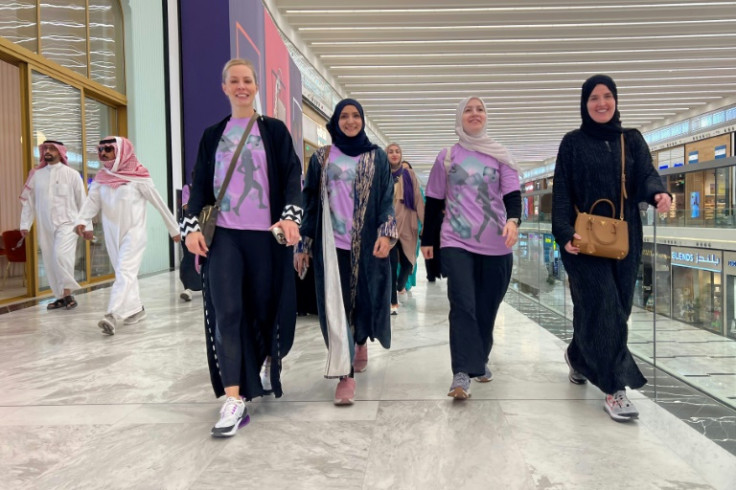 The shops have not yet opened, but the air-conditioned concourse of a Riyadh shopping mall is crowded anyway -- a haven for walkers and joggers grateful for somewhere cool to exercise.
The early-morning crowd includes 55-year-old engineer Mohammed Sultan, in a white T-shirt and black trainers, doing laps around the mall trailed by his niqab-wearing wife.
"It's too hot outside to exercise. The weather here is cold and does not cause thirst," Sultan says, noting that even in October, the end of the hot period in Saudi Arabia, daytime temperatures can still approach 40 degrees Celsius (104 degrees Fahrenheit).
"Walking in gyms (on a treadmill) is very boring," he adds with a laugh.
It is a scene replicated daily in malls across the Saudi capital, highlighting how a growing interest in physical fitness in the Gulf kingdom has collided with a dearth of suitable spaces for working out.
Long popular in the United States, another car-centric country with an obesity problem, mall-walking is increasingly becoming a Saudi sport.
Roughly one in five Saudi adults is obese, according to an in-depth study published by the World Bank last year that described the issue as "alarming".
To help bring that percentage down, the Saudi Sports for All Federation now organises races such as the Riyadh Marathon, which this year drew thousands of runners onto the capital's streets.
But such events are fairly irregular, and new gyms sprouting up in Riyadh often charge steep fees -- a turn-off for Saudis who spurn fancy machines and simply need space to stretch their legs.
Officials have begun work on a 135-kilometre (85-mile) Sports Boulevard in the capital featuring foot, cycle and horse-riding paths.
However that project -- billed by organisers as "a green spine through the city" with "cooling water features" and shaded football pitches -- is still years from completion.
That makes malls "the only option" for many people -- at least for now, says Australian expat Zuzana Kalous, who formed a women's walking group in Riyadh in 2020 that meets four times per week in different shopping centres.
"The mall is safe for women, air-conditioned and controlled. No pollution, no dust, no traffic," she tells AFP as more than 20 members of her group jog past storefronts one recent morning.
The contained environment also guarantees people can exercise even in less-than-ideal weather, like spring sandstorms or winter rains, says Saudi nutritionist Laila al-Rifai, a member of Kalous's group.
"Commercial centres are the ideal solution to continue walking at any time of the day, at any time of year," she says.
Hassan Merhi, a Lebanese fitness trainer based in Riyadh, encourages his clients to walk outdoors as much as possible, noting that most studies show it offers a better workout than staying inside.
"It helps burn fat faster and reduces stress," he says.
But Batoul Zind al-Hadid, a 41-year-old from Syria, says a mall walk is "excellent for those who are still feeling out their first steps".
Not only does it tend to be more social, with groups gathered together in the same space, it also allows her to stay on top of the latest fashion trends by studying the display windows.
It is, she says, "a more comprehensive and entertaining experience".
© 2023 Latin Times. All rights reserved. Do not reproduce without permission.