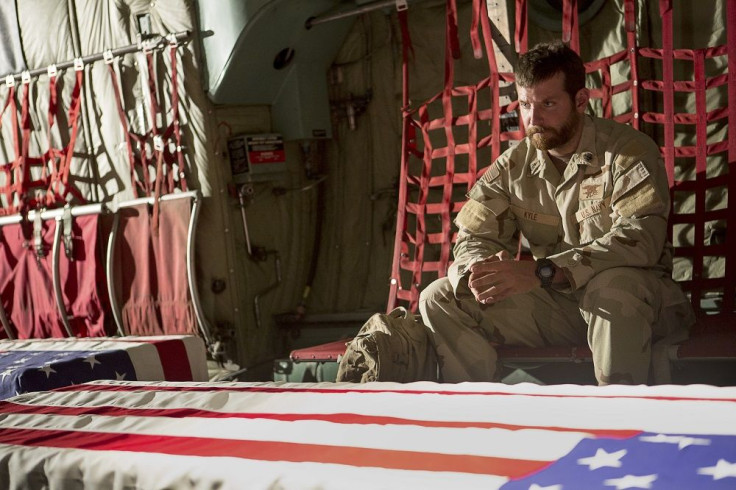 "American Sniper" is a masterpiece, but the real life tale of Chris Kyle is even more of masterpiece—heroic, yet tragic. Joined by Kyle's widow, Taya, actor Bradley Cooper discusses candidly the huge shoes he felt the need to fill during his film performance, that chronicled the extraordinary life and unfortunate death of the most lethal sniper in the history of the United States. Kyle joined the U.S. Navy in 1999; the sniper served four tours in Iraq and was awarded two Silver Stars, five Bronze Stars, a Navy and Marine Corps Commendation medal, and two Navy and Marine Corps Achievement medals. In 2009, Kyle was honorably discharged from the U.S. Military; he was then credited with 160 confirmed kills out of 255 probable kills. And while Kyle, who was dubbed the "Devil of Ramadi" by locals for his accuracy, had incredible knowledge and years of training "on the gun," his on screen counterpart, Cooper, only had a fraction of this. "I had three months of training, and I'd chosen to become comfortable with three guns," Cooper says. "The Mark 11, the .338 (Lapua Magnum) with boom and the .338 Win Mag (Winchester Magnum). I'd really focused on getting into the mindset of what it would be to be a sniper."
Cooper, who has garnered an Oscar nomination for his transformative role, seemed to share a surprising mindset with the deadly sniper who was known among his fellow soldiers as "Legend." "The first week in Morocco (which substitutes for the location of the Iraq War), we're shooting the opening scene in the movie. I'd only ever had my gun with live ammo. I'm looking through the scope at the two actors and like, my stomach turned. I pulled the gun away and I said, 'We can't shoot the scene with them there.'" Like Cooper, who couldn't fathom pulling the trigger on a real person, Taya, Kyle's widow, revealed that her husband struggled not with the people he did save, but all those who he couldn't protect and were killed in combat during the gruesome Iraq War.
The tragedy of this tale is the death of Kyle, who was taken from his wife, and two young children. After publishing his bestselling autobiography "American Sniper," Kyle was shot and killed while at a shooting range on February 2, 2013 near his hometown in Texas. Kyle and friend Chad Littlefield who was also shot, were reportedly murdered by Eddie Ray Routh, a 25-year-old Marine Corps veteran whose mother asked the pair to spend time with due his struggle with PTSD. Shockingly, Cooper reveals that he wanted to tell Kyle's story even before his shocking death, after the event, things just got even more personal. "The two roles were real people who I admire greatly and so I felt a tremendous responsibility. I just did everything I could to do right by them," Cooper says.
"Movies, for me, have always been healing. "The Elephant Man" was a movie that affected me in such a massive way; it made me want to be an actor. It always made me feel like I wasn't so alone. That's why I do what I do. I love storytelling so much." In addition to portraying Chris Kyle in "American Sniper," Cooper returned to theater, tormented Joseph Merrick in the Broadway production of "The Elephant Man." Cooper, who also served as a producer, on the film was already in contact with writer Chris Hall who had been actively adapting Kyle's book into a movie script. Hall stated that he had just turned in a finished movie script to Cooper, "and the next day, Chris was murdered. It's hard to spend that much time with someone, you come to care for and understand, and carry the voices of their family and kids. I immediately called Bradley and there was just silence at the other end. It was very traumatic." The entire production was deeply affected by Kyle's death; with Cooper's co-star Sienna Miller, admitting that Cooper was not the same man during filming. "It was sometime after we'd finished filming that I realized I was only just meeting Bradley Cooper for the first time," says Miller, who plays Taya Kyle.
"American Sniper" will celebrate its full release Friday, January 16, and while the actor is most certainly revealing in his third Oscar nomination for Best Actor, the role wasn't always an easy one. Deeply and emotionally affected by the film, Cooper revealed, "Chris left me, like, three and a half weeks after the movie finished. That was a sad day, but I went to a different transition."
© 2023 Latin Times. All rights reserved. Do not reproduce without permission.