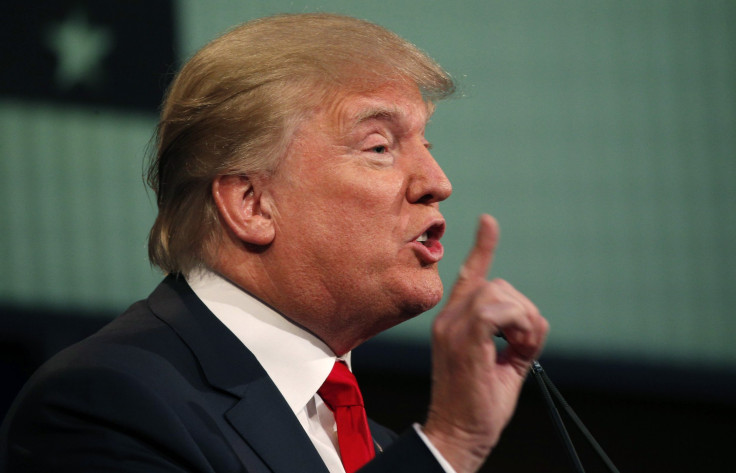 Donald Trump attacked Fox News' Megyn Kelly in late-night comments on Thursday night and early Friday morning retweets over questions that the journalist asked him during the first Republican presidential debate. Like other candidates, Trump was grilled over his potential weaknesses, as well a potential problems he might have facing a Democrat like Hillary Clinton. Unlike his rivals however, Trump became incredibly bitter when his record was used to ask tough questions. Kelly is used to being barraged by criticism by liberals, but got a surprise backlash from conservatives following this interaction (abridged from the original transcript ).
"You've called women you don't like "fat pigs, dogs, slobs, and disgusting animals [...] You once told a contestant on Celebrity Apprentice it would be a pretty picture to see her on her knees," Kelly said, asking "Does that sound to you like the temperament of a man we should elect as president?"
"The big problem this country has is being politically correct," Trump responded, concluding "What I say is what I say. And honestly Megyn, if you don't like it, I'm sorry. I've been very nice to you, although I could probably maybe not be, based on the way you have treated me. But I wouldn't do that," he said.
Trump was not very nice on twitter following the debate. While he didn't go as far as call Kelly an animal, the presidential candidate tweeted that she was "not very good or professional."
Kelly was not unfair to Trump by any stretch of the imagination. In fact, she asked plenty of tough questions to other candidates. So did her two co-hosts. The only difference was that Trump's opponents -- the other 9 presidential hopefuls on stage -- knew how to respond. For example, Kelly asked Wisconsin Gov. Scott Walker if he was too far out of the mainstream by opposing abotions in the case of a mother's life being threatened.
"You recently signed an abortion law in Wisconsin that does have an exception for the mother's life, but you're on the record as having objected to it. Would you really let a mother die rather than have an abortion, and with 83 percent of the American public in favor of a life exception, are you too out of the mainstream on this issue to win the general election?" she said.
"Well, I'm pro-life, I've always been pro-life, and I've got a position that I think is consistent with many Americans out there [...] there are many other alternatives that can also protect the life of that mother. That's been consistently proven [....] I defunded Planned Parenthood more than four years ago, long before any of these videos came out."
Kelly grilled Walker about literally killing women, and he took it in stride. Meanwhile, Trump flipped his shit over a question about twitter-based misogyny. If he had doubled down on mysogenistic questions with his answer, he tripled down by attacking Kelly when the show was over.
Women Respond
Kelly didn't respond on twitter or in the media. Instead, she celebrated the high ratings of the event that she hosted, which CNN confirmed today were a record for a primary debate. Other women did respond, and they weren't very nice, as the Guardian pointed out.
"Jesus. Calling women fat pigs isn't a PC thing. It's a basic matter of respect," wrote Amanda Carpenter, a conservative commentator and former Ted Cruz aid.
"It was funny watching Trump with M. Kelly. She's gorgeous so he didn't know how to insult her. What an idiot," wrote Roxane Gay, a feminist fiction writer and social critic.
Late into the night, Trump retweeted messages from his supporters, including Megyn Kelly "hatemail." The material was not very presidential, and the content was often as misogynistic as the comments that Kelly had identified in her question.
Not white bread mind you, but a bimbo, commonly defined as a hot but stupid young woman with loose morals or, as Wikipedia puts it, "an empty-headed young woman, especially one perceived as a willing sex object."
Twitter rages ensued. In addition to the "bimbo" comment, he retweeted followers calling Kelly's questions "a total hatchet job" and "astonishingly biased" with one Trump supporter saying "She really has made me want to never watch fox again."
Carly Fiorina, a Republican candidate who debated in the lower-tier debate earlier in the day, told CNN that she was not impressed.
"I have said for some time that no one who claims to represent our party should ever be judgmental in tone, vitriolic or angry," Fiorina told CNN 's Brooke Baldwin on Friday.
© 2023 Latin Times. All rights reserved. Do not reproduce without permission.