President Trump made no secret of his dislike for Dr. Anthony Fauci at a late-night campaign rally in Opa-Locka, Florida on Tuesday. The president hinted at plans to oust the nation's top infectious disease specialist after the presidential elections.
The implicit reveal came as Trump lambasted the media for its coverage of the COVID-19 rally. Citing how the reportage of the pandemic was largely a gimmick, Trump alleged that one "wouldn't hear much about it post the elections."
Soon after, a volley of supporters began to murmur "Fire Fauci" in unison. To which, Trump responded – "Don't tell anybody, but let me wait 'til a little bit after the election." He further added, "He's been wrong on a lot. He's a nice man, though. He's been wrong on a lot."
The war of words between Trump and Fauci skyrocketed as the COVID-10 outbreak spiralled out of control. Fauci touched a raw nerve when he alleged that Trump was heading down the wrong path by downplaying the severity of the pandemic. His weekend interview with "The Washington Post" triggered fury in Trump's administration, more so as the top medico slammed the administration's handling of the novel coronavirus.
"We're in for a whole lot of hurt. It's not a good situation," said Fauci. "All the stars are aligned in the wrong place as you go into the fall and winter season, with people congregating at home indoors. You could not possibly be positioned more poorly," he added.
Things reached a whole new level where Fauci seemed to have sided with Trump's rival in his statements about handling the pandemic. Fauci averred in the interview that Biden's campaign "is taking it seriously from a public health perspective", whereas Trump is "looking at it from a different perspective. Namely that of the economy and reopening the country."
At one point during the Post interview, Fauci asserted that he needed to "exercise caution in how he was speaking else he could be blocked conducting interviews in the future."
"The last time I spoke to the president was not about any policy; it was when he was recovering in Walter Reed, he called me up," said Fauci, also suggesting how Trump has a new favorite – Dr. Scott Atlas. The president's liking for the neuroradiologist has largely to do with the fact that the two have a common ground in terms of their perspectives about the pandemic. Atlas recently gave his nod to Trump's desire to reopen the economy.
The move was met with firm resistance from Fauci. "I have real problems with that guy," said Fauci. "He's a smart guy who's talking about things that I believe he doesn't have any real insight or knowledge or experience in. He keeps talking about things that when you dissect it out and parse it out, it doesn't make any sense," he added.
On Saturday, Atlas took to Twitter to rebuke Fauci on his stance as soon as the interview with "The Washington Post" was aired.'#Insecurity #EmbarrassingHimself #Exposed #CantThrowABall #NoTimeForPolitics,' he tweeted. Trump, too, rebuked Fauci's understanding of the crisis during a recent rally.
"People are tired of hearing Fauci and these idiots, all these idiots who got it wrong," said Trump, while recounting how Fauci once said face masks were not mandatory before he had to clarify his stance.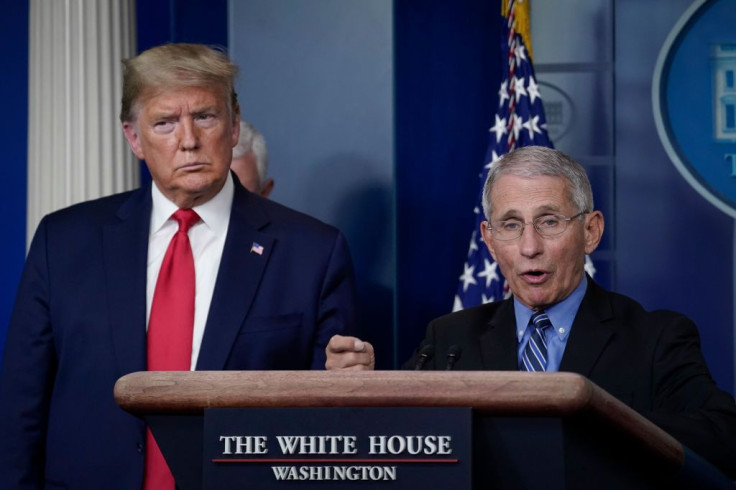 © 2023 Latin Times. All rights reserved. Do not reproduce without permission.