A Capitol insurrectionist who worked as a romance novel model pleaded guilty on Wednesday to dragging a police officer down the steps of the Capitol towards the frenzied crowd, with him being found by folks on the Internet due to his recognizable face.
Logan James Barnhart, a 41-year-old bodybuilder and romance novel model from Michigan, was part of the crowd that stormed the U.S. Capitol on Jan. 6, reportedly bashing officers attempting to keep them out with a flagpole and pushing other rioters to their riot shields during the incident, according to the Daily Beast.
Barnhart claims that he was called to action to go to the Capitol by former U.S. President Donald Trump, of whom he is an avid supporter. During his time in the Capitol, Barnhart reportedly pulled down an officer, identified as B.M., down the steps towards the crowd who started beating the capitol police officer with batons, NBC News reported.
Folks on the Internet had a hard time identifying Barnhart in the available footage due to him wearing sunglasses through most of the insurrection. Nicknamed "Catsweat" due to his Caterpillar brand sweatshirt, a YouTube video finally panned to his face during the rally earlier that day, and a facial recognition search found matching images from his modeling career.
His Instagram account was later used by prosecutors as evidence that situated him in the area during the Insurrection.
Barnhart, who was on the cover of such romance novels as "Stepbrother UnSEALed: A Bad Boy Military Romance" and "Lighter," was then included in a superseding indictment with eight other men related to the officer that he dragged down the Capitol steps. Two of the men he was indicted with also pleaded guilty, while one of them has died.
The bodybuilder and model pleaded guilty to "assaulting, resisting, or impeding certain officers using a dangerous weapon," and expressed his guilt to U.S. District Judge Emmet G. Sullivan, who will sentence him on March 9 for his admitted crimes.
"Are you pleading guilty because you are guilty?" Sullivan had asked Barnhart.
"Yes, sir," he replied.
Recently, underwear model John Strand was found guilty in relation to the Capitol insurrection on several charges, while Kyle Young was found guilty and given seven years in prison for handing a stun gun to a rioter and grabbing a police officer and dragging him towards the mob.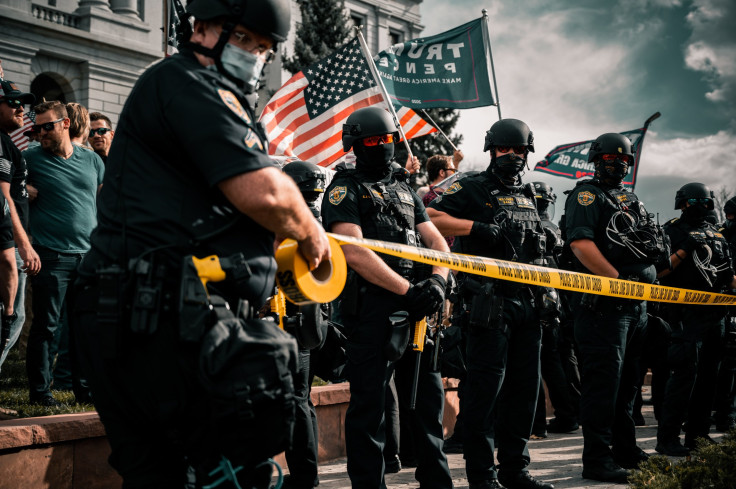 © 2023 Latin Times. All rights reserved. Do not reproduce without permission.