President Trump is oddly optimistic about the progress of vaccine development in the U.S.
"We're balancing speed and safety and we're on pace to have a vaccine available this year, maybe far in advance of the end of the year," said Trump on Monday, during a White House press briefing. "And we're mass-producing the most promising candidates in advance so that we're ready upon approval. We have our military lined up, it's logistics, it's all about logistics," he added.
Trump padded his perspective by mentioning names of popular drug companies -- Pfizer and Moderna -- and how it has come to his understanding from senior officials that the leading candidates have already vaccinated scores of people.
Scientists are banking on the fact that these vaccines comprise mRNA molecules -- components that are capable of evoking an immune response against the virus.
While researchers have suggested that an effective vaccine might be available by next year; there has been no confirmation on that. Despite several countries aggressively working toward producing millions of doses of vaccine there is a lot of ambiguity on the essential requirements -- the number of doses, vials, needles and syringes that will be needed to administer the vaccine.
Trump's views come as a stark contraction to Dr. Anthony Fauci, the country's top infectious disease expert's views. Fauci has repeatedly claimed that while he's optimistic about how the vaccine development will pan out, he's uncertain if there's going to be any progress on the discovery before the end of the year or early 2021. Fauci also suggested that a vaccine is very unlikely to be widely accessible to Americans until the mid of next year.
The novel coronavirus has infected over 18 million people worldwide, in addition to claiming over 689,922 lives. The U.S. stands in the top spot among countries to be hardest hit by the pandemic with over 4.8 million positive cases. The outbreak has also led to massive job losses in the country, as the unemployment rate shot up to 20% in May as per the statistics revealed by a new post World War Two record. It is believed that the economic turmoil brought forth by the global health crisis will take years to recover.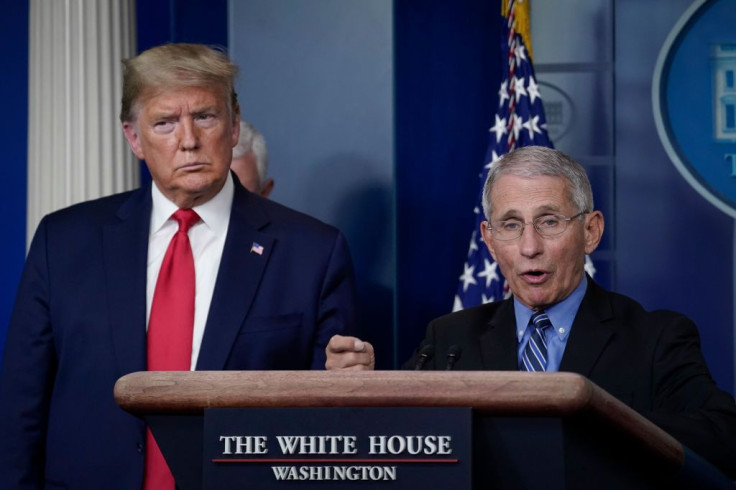 © 2023 Latin Times. All rights reserved. Do not reproduce without permission.