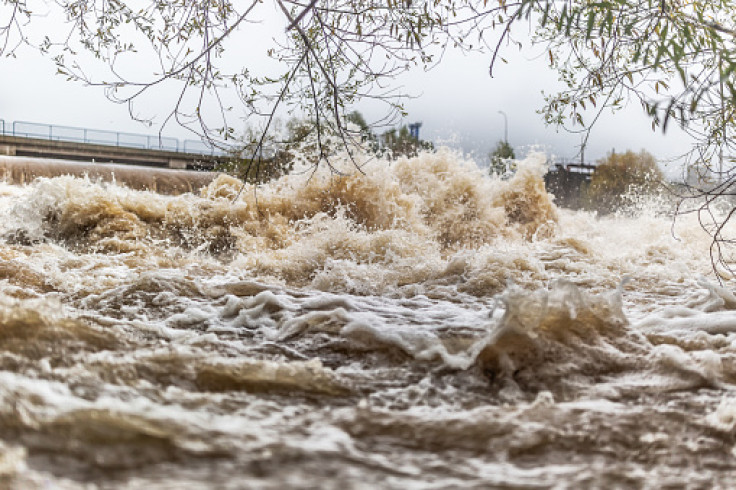 According to meteorological authorities, Typhoon Talim made its second landfall in southeastern China's Guangxi province on Tuesday morning.
Having previously hit Guangzhou during its initial landfall late on Monday night, the typhoon continued its westward trajectory along the South China Sea coastline, heading towards the northern regions of Vietnam.
Reported by the regional meteorological bureau and cited by state news agency Xinhua, Talim reached the city of Beihai at 5:45 a.m. on Tuesday, followed by Qinzhou at 9 a.m.
The maximum wind speeds near the typhoon's center were recorded at 25 meters per second. The storm was projected to move northwest at a speed of 15-20 kilometers per hour.
The regional meteorological bureau also issued forecasts indicating rainstorms in Qinzhou, Fangchenggang, and Chongzuo, with gusts expected to reach 33 meters per second in the southern and central parts of the region.
Typhoon Talim Batters Southern China and Moves Away from Hong Kong
Typhoon Talim made its initial landfall in Zhanjiang, a city in Guangzhou, at 10:20 p.m. local time on Monday (14:20 GMT), accompanied by powerful winds reaching speeds of up to 136.8 kph, as reported by the Canton meteorological bureau.
As a precautionary measure, over 230,000 individuals were evacuated to safe areas in Canton, and authorities enforced the closure of 68 coastal tourist sites.
Additionally, 2,702 fishing boats were directed to return to port, according to Xinhua.
Transportation services, including rail, air, and sea, have been suspended in several regions in southern China since Monday. Schools and factories have also temporarily ceased operations.
Throughout the night, the typhoon brought strong winds and heavy rainfall to the provinces of Canton, Hainan, Guangxi, and Yunnan, as well as to Hong Kong and Macau.
Authorities have issued warnings about waves of up to 9 meters in height and the possibility of flooding in Guangzhou, Guangxi, and Hainan, where several rivers were projected to overflow.
The Hong Kong Stock Exchange suspended its operations on Monday but resumed activity on Tuesday.
The city's Observatory canceled all typhoon signals as the storm moved away from the territory, as reported by state news outlet RTHK.
Vietnam Braces for Typhoon Talim's Arrival, Evacuations Underway
As Typhoon Talim continues its path towards Vietnam, authorities have taken precautionary measures in the northern region.
According to the Vietnam News Agency, around 30,000 people are being evacuated in preparation for the storm's anticipated arrival on Tuesday.
The provinces of Quang Ninh, Thai Binh, Nam Dịnh, and the city of Hai Phong have imposed fishing boat bans and suspended passenger vessel services.
Emergency services in Vietnam are anticipating significant flooding in parts of the northern region due to the typhoon's heavy rainfall.
Talim is considered one of the strongest typhoons to hit northern Vietnam in recent years.
The authorities have also issued warnings about the increased risk of landslides accompanying the heavy rains, La Prensa Latina reported.
It is worth noting that the primary flood season in China typically occurs from late July to early August, coinciding with a rise in tropical cyclone activity, particularly in the South China Sea and the Pacific region.
© 2023 Latin Times. All rights reserved. Do not reproduce without permission.