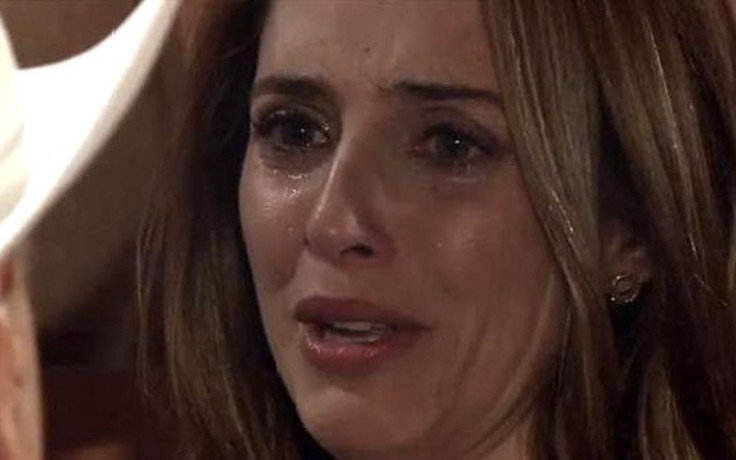 Tonight's episode of "Que Te Perdone Dios" is going to be extremely explosive. As we wait for Zuria Vega and Mark Tacher's characters to appear in the telenovela, we have been treated to a very intense backstory. Renata (Irán Castillo) has faced obstacles to live out her love with Pablo (Brandon Peniche). Bruno (Eric Del Castillo) was successful in separating them as he sent to have Pablo murdered. Now Renata has been forced to treat her own daughter as the daughter of the servant Macaria (Alejandra Garcia), or else she would never see her again. Episode 4 has Renata promising her baby daughter Abigail that she will fight to be with her, even though she will never call her mother. Three months later, Renata leaves the house in Ciudad del Valle and gives up her baby to Macaria as she will not take care of her. Macaria arrives at Fausto's (Sergio Goyri) place and tells him that the baby she is carrying is both of theirs. Fausto does not believe her as he was aware of Bruno's plan all along.
Fausto tells Macaria that his intention is to gain control of the Flores Del Angel land and once he has it, he will "send" Renata and Abigail to hell. Fausto visits Renata and promises to get Abigail back to her if they get married. The poor woman loves her child so bad that she ends up accepting Fausto in marriage. Right as Renata and Fausto are pronounced husband and wife, Bruno has an attack and dies at the church right after he asked his daughter for forgiveness. Renata and Fausto decide they will sleep in separate beds, but waiting for him in his room is Macaria. Fausto then tells her that he killed Pablo. Renata asks Fausto that she wants to adopt her daughter and change her last name so she can start taking care of her daughter. Fausto tells her that they should wait so people won't speculate.
Bruno leaves Fausto Lopez Guerra as the executor of all his properties as long as he takes care of Renata and Constanza as long as they don't leave the house. He also asks that Macaria receive her monthly income for taking care of Abigail and suggests that Renata become the god mother to cover appearances. Melitón (Manuel Ojeda) tells Renata that Pablo wanted to runaway with her and he never abandoned her or took money to leave. He assures her that the reason they have not heard from Pablo it's because he's dead. Macaria tells Renata to runaway and tells her that it was Fausto's idea to have her register Abigail as her daughter in compliance with Bruno. What really is going to make the bomb is explode is when Macaria said, "Your husband killed Pablo." Spoiler Alert! Spoiler Alert! Renata tries to escape, but is intercepted by Fausto causing an accident. Will she die? "Que Te Perdone Dios" airs Monday through Friday at 10pm ET/PT on Univision.
© 2023 Latin Times. All rights reserved. Do not reproduce without permission.