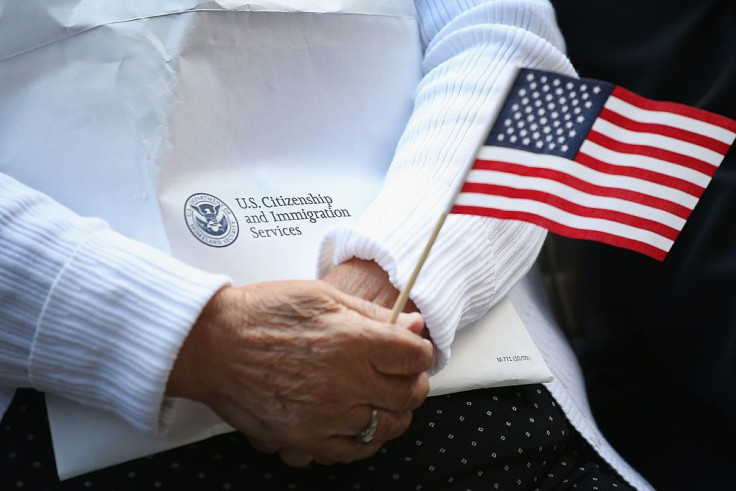 The U.S. government's recent decision to revise the citizenship test by adding a speaking section to assess English skills has prompted concerns from immigration experts and immigrants.
In 2019, President Donald Trump's administration had updated the U.S. citizenship test to accurately measure an applicant's civics knowledge, NPR reported. However, these changes were highly criticized as they reportedly made the tests more difficult for immigrants and refugees.
Within months of taking office, President Joe Biden signed an executive order to eliminate barriers to citizenship. Under this order, the citizenship test was changed back to its previous version, which had last been updated in 2008.
Now in 2023, the U.S. citizenship test is once again being updated, with the new version expected late next year, the Associated Press reported.
Under federal law, a majority of applicants seeking U.S. citizenship must demonstrate an understanding of the English language--including the ability to speak, read and write--and significant knowledge of U.S. history and government.
According to the new proposed changes, a speaking section will be included to assess the applicant's English skills. In essence, an officer will show photos of every day scenarios--such as eating, walking dogs, shopping, etc.--and ask the applicant to verbally describe the photos, MSN reported.
Currently, an officer evaluates the applicant's speaking abilities by asking them personal questions that have already been answered in the naturalization paperwork.
Former applicants and advocates worry the added speaking section would make the test harder for applicants. Many immigrants and refugees struggle with pronunciation of English words and forming proper sentences. Furthermore, many applicants come from countries that have barred them from receiving proper, if any, education, adding to the difficulties these new changes would cause.
Heaven Mehreta, who had immigrated from Ethiopia 10 years ago and became a U.S. citizen in June, told Associated Press, "For me, I think it would be harder to look at pictures and explain them."
U.S. citizen Shai Avny, who had immigrated from Israel five years ago, reiterated the same: "Sitting next to someone from the federal government, it can be intimidating to talk and speak with them. Some people have this fear anyway. When it's not your first language, it can be even more difficult. Maybe you will be nervous and you won't find the words to tell them what you need to describe. It's a test that will determine if you are going to be a citizen. So there is a lot to lose," the Associated Press reported.
Additionally, citing best practices in adult education assessments, the agency of citizenship and immigration services proposes to make the civics section on U.S. history and government multiple-choice instead of the current oral short-answer format.
According to a post on Medium by Bill Bliss, a member of the Citizenship Test Working Group and the Naturalization Working Group, the change to multiple-choice questions would require a larger base of knowledge. For example, a current civics question has an officer asking the applicant to name a war the U.S. fought in the 1900s. The applicant only needs to say one out of five acceptable answers--World War I, World War II, Korean War, Vietnam War or Gulf War--to get the answer right.
However, in the intended multiple-choice format, the applicant would have to choose their answer from the following choices--Civil War, Mexican American War, Korean War or the Spanish-American War.
The applicant must know all the wars fought by the U.S. in the 1900s to select the one correct answer, Bliss said, adding that it requires a "significantly higher level of language proficiency and test-taking skill."
It should be noted these changes are currently only being proposed. The agency will first conduct a nationwide trial of all proposed changes in 2023, giving the public the opportunity to offer feedback, before an external group of experts will review the results of the trial and recommend how best to implement the given changes. Any changes to the test would be implemented late next year.
© 2023 Latin Times. All rights reserved. Do not reproduce without permission.