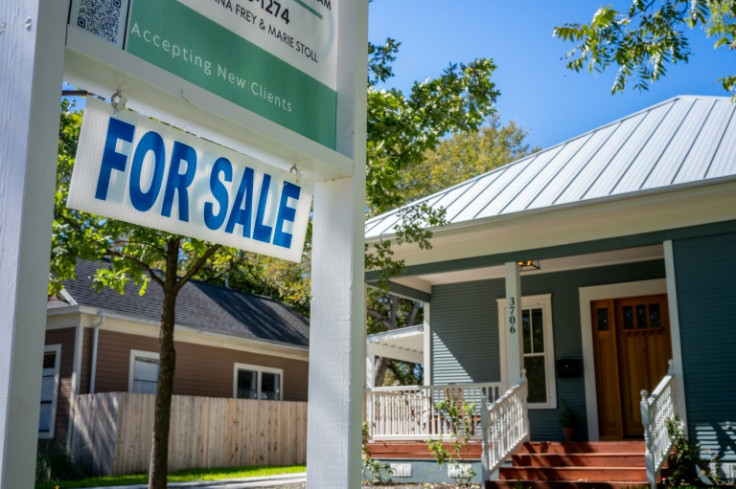 US home sales slid further in September to the lowest rate in 13 years, according to industry data released Thursday, with interest rates high and the supply of properties limited.
Existing home sales crept down 2.0 percent last month from August, reaching an annual rate of 3.96 million, seasonally adjusted, said the National Association of Realtors (NAR).
This was the slowest pace since October 2010, as elevated interest rates make homeownership pricier for new buyers.
Existing homeowners are also less likely to put their real estate on sale after having locked in lower rates previously.
"As has been the case throughout this year, limited inventory and low housing affordability continue to hamper home sales," said NAR chief economist Lawrence Yun.
From a year ago, home sales in September were around 15 percent lower.
"The Federal Reserve simply cannot keep raising interest rates in light of softening inflation and weakening job gains," Yun said in a statement.
He added that unlike in 2010, there are currently not many distressed sales.
The median price of existing homes rose from last year for a third straight month to $394,300, said the NAR.
This confirms a "pressing need for more housing supply," Yun added.
But builders are also contending with weaker demand due to affordability issues, and are squeezed by tighter credit conditions, economist Rubeela Farooqi of High Frequency Economics told AFP.
"Home sales will likely remain under pressure until supply eases and interest rates stabilize or move lower," she said, adding that "neither one of these two things is going to happen quickly."
The popular 30-year fixed-rate mortgage recently hit its highest level since 2000.
It averaged 7.57 percent percent as of October 12, according to home loan finance company Freddie Mac, significantly above 6.92 percent a year prior.
In September, all four major US regions logged sales declines from a year ago.
"Sales likely now are close to the incompressible minimum, where the market consists only of people who have to move, for job or family reasons," said economists at Pantheon Macroeconomics in a recent note.
"The housing market remains a long way from recovery," they added.