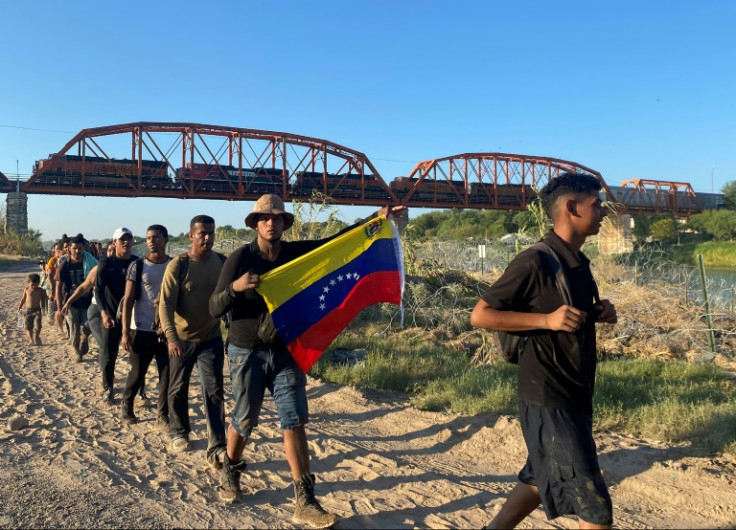 The United States resumed its deportation flights of Venezuelans on Wednesday, with the first flight, which took off from Texas, dropping roughly 130 passengers to Caracas.
The deported migrants' were wearing wrist and ankle restraints as they boarded the flight, before which they were patted down by immigration officers.
According to the U.S. Transportation Department, the country will be deporting ''multiple" flights in a week to Venezuela, AP News reported.
An acting executive associate director for U.S. Immigration and Customs Enforcement, Corey Price, disclosed that Venezuelan migrants who recently arrived in the country and those who committed crimes in the U.S. border, were prioritized for deportation.
He said the passengers had illegally entered the U.S. between ports of entry, adding that in his entire career, this was the first time he was witnessing an entire flight full of Venezuelans going back to their country.
"And we plan on having several more of these in the coming days and weeks," Price added.
Venezuela's President Nicolás Maduro said in a televised interview, "I am glad that today, in compliance with the agreements discussed and signed between the authorities of Venezuela and the government of the United States, the first group of Venezuelans who have been repatriated have returned."
As per the deal struck between the two countries earlier this month, Venezuela would accept its nationals back after they are deported from the United States.
The surge in migrants was witnessed after the U.S. authorities announced earlier this year that there were more legal ways to reach the country. Not only from Venezuela, but other South American countries like Cuba, Guatemala, and Honduras were also leaving their respective countries due to economic conditions.
An immigration attorney in Florida, Rachel Leon, explained that migrants who apply for Temporary Protected Status (TPS) can avoid facing deportation.
"Venezuelans who have not applied for TPS (Temporary Protected Status) and have deportation orders could be affected," she said. "Those who are eligible for TPS should apply as soon as possible to avoid facing deportation."
© 2023 Latin Times. All rights reserved. Do not reproduce without permission.