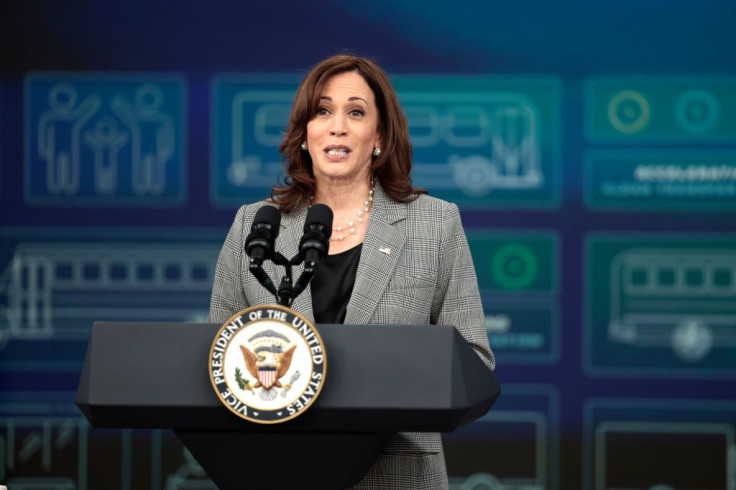 U.S. Vice President Kamala Harris made a surprise visit to a Mexican bakery in Raleigh on Monday, Jan. 30.
Kamala Harris, the vice president of the United States, made a surprise visit to a Mexican bakery called Panaderia Artesanal in Raleigh on Monday, Jan. 30 after her panel discussion on small businesses and Hispanic-owned businesses, the News & Observer reported.
Just before heading back to Raleigh-Durham International Airport, Harris entered Panaderia Artesanal, talked with employees, and filled a tray of bakery items. Harris was part of a panel at the Duke Energy Center on Monday, Jan. 30, and primarily focused on challenges for the Latino community.
"It's been a family tradition," owner Jessica Karina Barahora said. "My dad's dad in Mexico baked."
"I was very nervous, very proud to have her here," said Astrid Sabillon, Barahora's daughter.
Sabillon shook hands with the Vice President and said that her mom, Jessica Barahona has poured her heart and soul into the business, CBS 17 reported.
"My mom has worked very hard on the business. It's been eight very long years– she's put in so much time and effort. To have someone so big, so important come to our business… it just meant a lot to us," Sabillon said.
Sabillon said her mom started the business near New Hope and Capitol Boulevard nearly eight years ago with the help of a loan.
"My mom is from Honduras and my dad is from Mexico. And that is where the tradition of making bread comes from," Sabillon said.
The bakery employs 17 additional people and was initially run out of a vehicle until it was profitable enough to rent a storefront. During the initial years, Karina Barahora bought the original vehicle with a loan from Latino Community Credit Union.
The family said they are excited to see the Vice President's support. They added that believe the publicity from the Monday visit has already helped them gain a few additional customers.
"It just meant a lot to us that she took time and effort to come," Sabillon added.
© 2023 Latin Times. All rights reserved. Do not reproduce without permission.