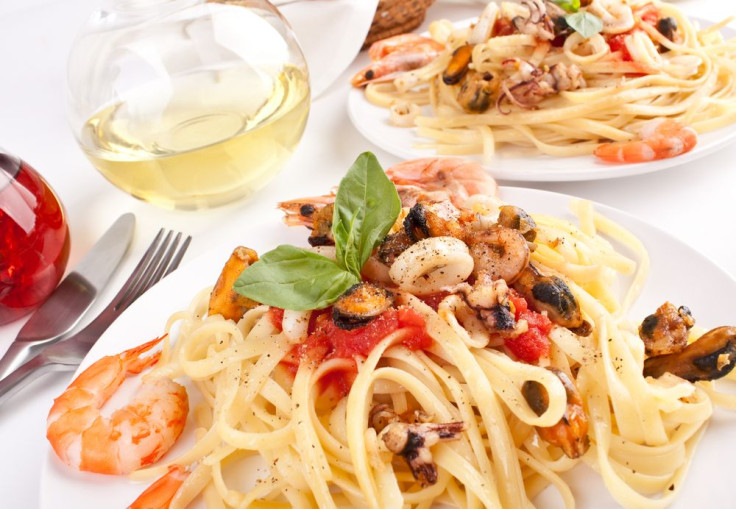 Cooking for two can sound a bit daunting, especially because it puts a lot of pressure on the chef to prepare a magnificent, intimate dinner. But fear not, we've got you covered with recipes that don't only taste great but they're easy and have that special wow factor (including international names) that will blow your significant other's mind away. Whether you want a three-course meal, skip straight to dessert, or surprise them with breakfast for dinner, we have the best ideas for you to get started!
About Food's Shrimp Ceviche: This dish is a fancy, fresh and tangy way to start a meal. It's not complicated to make and even easier to serve. Check it out!
All Recipes' Stuffed Artichoke Hearts: Set the mood for the rest of the meal with this delicious artichoke appetizer that will fascinate your loved one. Try them here!
Martha Stewart's Spaghetti And Meatballs: I mean, you might not want to go all Lady-and-the-tramp here, but how much more romantic can a dinner for two get? You can prep the meatballs in advance and then make regular pasta in the moment. Don't forget the red wine and, presto!
Eating Well's Mussels South of Two Borders: This is a great aromatic seafood dish that's quite easy to make and extremely delicious. Don't forget to take out the mussels which don't open up when they're done, and do not forget to buy some French bread to soak in the broth; it's the best part!
Aarón Sanchez's Tamarind tomatillo lamb shanks: Once you've prepped all the ingredients, this recipe just has to cook for a while so the flavors come out and the meat is juicy and tender. Perfect for Valentine's Day!
Ina Garten's Linguine with Shrimp Scampi: An even fancier way to to bring a pasta dish to your table is shrimp scampi. You can also make this as spicy as you and your significant other can handle! Try it here.
Cooking Channel's Avocado Leaf Crusted Tuna Taquitos: These are not only a healthier, lighter option, but they are flavorful and easy to serve. Get the recipe here.
Martha Stewart's Molten Mocha Cakes: Don't be afraid of trying your hand at baking. It will all be worth it for these melty chocolaty cakes. Just be very precise and they will turn out just like you imagine them. Go for it!
Chef Carmen Gonzales's Churros with Warm Chocolate Sauce: You can't really go wrong with churros. You can even make them in advance and heat them up in the oven for a few minutes before you serve them warm to dip in chocolate. Yes please!
101 Cooking for Two's Baked Blueberry Pancakes: You might want to surprise your love with breakfast in bed to set the mood for the rest of the day, and this recipe is not only scrumptious but you can prep ahead of time and bake in the morning. You need this!
© 2023 Latin Times. All rights reserved. Do not reproduce without permission.