An 11-year-old boy who allegedly stole a mobile phone underwent extreme torture by yet-to-be-named individuals. He ended up getting tied to a fan that was running at top speed but got even more punishment when he was hammered with nails and cut by blades multiple times.
The despicable act was captured on video, angering viewers with the treatment the boy got. Yolanda George-David shared footage of the whole incident. At one point, the boy ended up vomiting blood and fainted. A hot iron was used to resuscitate him after which the torture continued.
The torture includes the boy receiving hammered nails to his leg and being cut by blades multiple times. The boy could also be seen whimpering in the video when his trousers were being removed. The fabric of the trouser ended up sticking to his skin and the only way to take them off was by peeling them.
The boy ended up with badly bruised skin on his butt and thighs. He was tied by the ankle to the fan which added to the brutal injuries he suffered.
In the end, the boy said that he did not steal the phone. At the hospital, he had a hard time sitting due to a sore backside. He tried to kneel instead until he was able to on a bed.
It was not clear who was behind the brutal handling of the boy. Alleging he did not steal anything, more details on the incident have yet to crop up. No arrests were mentioned as of this writing but those who were able to watch the video were ready to render aid to the 11-year-old boy.
The was no mention as well if an investigation has been launched on the matter. But based on the unfortunate injuries that the boy ended up with, authorities are likely to dig deeper and figure out why the attack led to that, not to mention allegations that the boy stole a phone.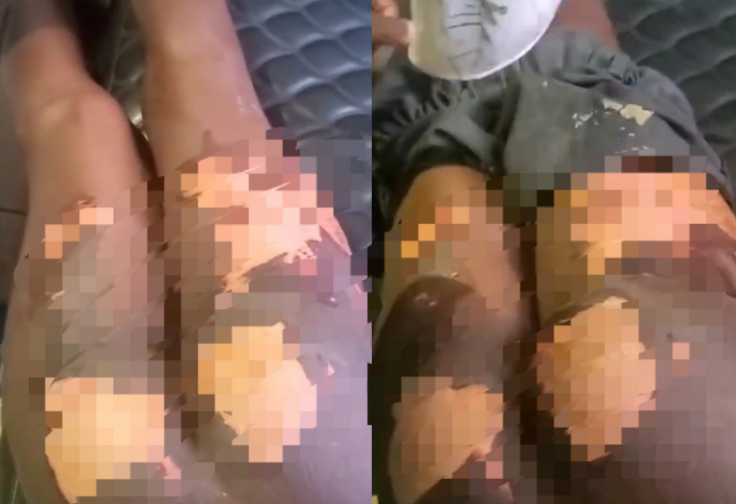 © 2023 Latin Times. All rights reserved. Do not reproduce without permission.