Russian President Vladimir Putin's decisions seem to have backfired on him with his ardent supporters and friends deserting him as they continue to express their opposition to the invasion of Ukraine. Former pro-Kremlin world leaders, Russian oligarchs, and athletes have spoken against Putin despite the risks that come with it.
According to Mirror, heads of state from Hungary and the Czech Republic have also broken tethers from Putin condemning Russia's invasion of Ukraine. This comes after reports of low morale amongst Russian soldiers have continuously been pouring in with some soldiers who were filmed by their Ukrainian captors sobbing, saying they were clueless on the mission and had no idea where they were being sent.
Russian troops
One Kremlin soldier who surrendered to Ukrainian forces said his funeral has already been arranged in Russia while another soldier said he fears being shot by his commanding officers as soon as he gets back. In fact, many captured Russian troops have spoken of their fears of facing the firing squad when they return home.
A captured Russian soldier admitted questioning the Kremlin's orders when he saw his favorite boxers, World Heavyweight Champion Oleksandr Usyk, and former champ Vasyl Lomachenko, enlisting to defend Ukraine. A video released by Ukrainian officials showed the said soldier saying he was 100% wrong about Putin's invasion.
"Don't judge too harshly. We were told Ukraine is dominated by fascists... Nazis had seized power. We did not know the situation for sure."
Russian athletes
Russian sports figures have also come out to oppose the Ukraine invasion, with prominent tennis player Andrey Rublev writing the words "No war please" on camera when he won a match in Dubai last month. Russian-born NHL ice hockey star Alex Ovechkin who has boldly shown support for Putin in the past also spoke to reporters begging the Kremlin to stop the war.
World leaders and politicians
Former Scottish National Party leader Alex Salmond who previously expressed much admiration for Putin announced that he has suspended his program on the Kremlin's state broadcaster, Russia Today. Salmond said he will not continue doing the show until peace has been re-established in Ukraine. Czech Republic President Milos Zeman along with Hungarian Prime Minister Viktor Orban, also condemned Russia's ongoing war. Other known supporters of Putin such as former Italian Prime Minister Matteo Salvini and French far-right leader Marine Le Pen joined in the call against Russia's military aggression on Ukraine.
Russian oligarchs
Meanwhile, Russia's elite circle has also spoken out against Putin's war although none have directly referenced the Russian president. Billionaire Mikhail Fridman was the first Russian business mogul to share his opposing thoughts on the Ukraine invasion calling an end to the bloodshed. Fridman's business partner Peter Aven and steel magnate Alexei Mordashov along with some of Russia's ultra-wealthy have responded to the European Union's sanctions saying the blanket business sanctions on Russians seemed unfair.
Billionaire Oleg Tinkov has also described Putin's war as unthinkable and unacceptable as he called for states to funnel money on cancer research and not on war. The owner of English soccer team Chelsea, billionaire Roman Abramovich was also reported to have been involved in talks with Belarus in an effort to reach a peaceful resolution. He has since handed the stewardship of Chelsea to a charitable foundation.
Actors
Hollywood director Oliver Stone who is one of many celebrities who supported Putin has also rowed back saying the Russian president's aggression on Ukraine was wrong. Stone tweeted: "Although the US has many wars of aggression on its conscience, it doesn't justify Mr. Putin's aggression in Ukraine. A dozen wrongs don't make a right... Russia was wrong to invade."
French actor Gerard Depardieu who is quite known to be pals with Putin after receiving Russian citizenship has also urged the leader to start peace negotiations. At the same time, Russian comedian Ivan Urgant posted on his Instagram, "Fear and pain. NO TO WAR."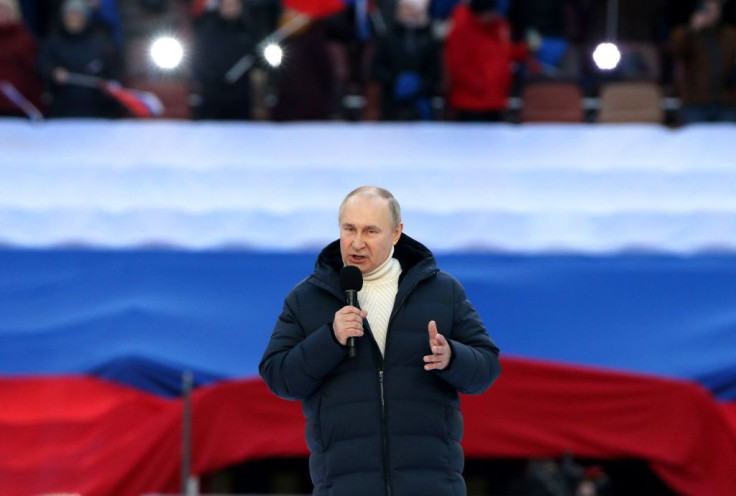 © 2023 Latin Times. All rights reserved. Do not reproduce without permission.