A new book from a royal correspondent on Monday claims that Meghan Markle, the Duchess of Sussex, had saved Prince Happy from his "unhappy" life as a royal, even if it ended up thrusting more responsibility towards his brother Prince William's children.
The new book by Valentine Low, "Courtiers: The Hidden Power Behind the Crown," claims that Meghan and Harry had both felt "cornered" by the rules that a working royal had to live through, and that their exit from the monarchy happened after the Queen refused to compromise on certain mandates, according to the Daily Beast.
"There is a part of me that thinks Meghan did Harry the greatest kindness anyone could do to him, which was to take him out of the royal family, because he was just desperately unhappy in the last couple of years in his working life. We knew he was unhappy, but we didn't really know what the solution would be. She came along and found the solution," Low wrote.
The couple had been in negotiations with the Firm regarding their exit, potentially looking into pursuing other interests outside of their royal duties, but the Queen insisted that the clause of a royal being apolitical and not earning money individually be upheld.
"In Meghan and the household, you had two worlds that had no experience of each other, had no way to relate to each other, had no way to comprehend each other. And Meghan was never going to fit in that model and that model was never going to tolerate the Meghan who Meghan wanted to be," a source told Low.
Due to Meghan and Harry's sudden exit, Prince William and Kate Middleton, the Princess of Wales, were forced to make their children more prominent members of the monarchy, even as the parents attempt to give them more privacy as they grow up, Business Insider reported.
The couple reportedly blames Meghan and Harry for the children's newfound responsibility, mostly the two eldest Prince George and Princess Charlotte, having to become prominent public figures of the monarchy at such a young age.
"We've seen the children performing in front of the cameras in a way that cannot have been part of the original plan," Robert Lacey, a royal historian, said. "We know that William and Kate want to bring up their children in relative seclusion and privacy, but the children have had to become a prominent part of the show."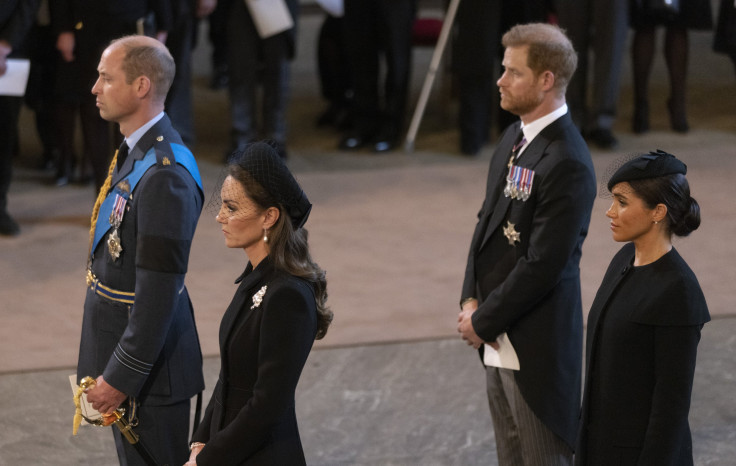 © 2023 Latin Times. All rights reserved. Do not reproduce without permission.