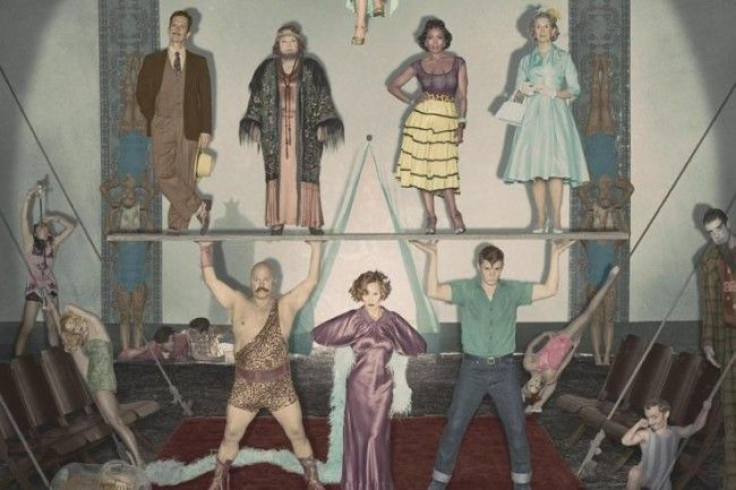 The fourth season of "American Horror Story" will premiere tonight on FX, but before fans wave goodbye to the Freak Show, Jupiter, and possibly even Jessica Lange, the series will celebrate it's final "Curtain Call." The finale episode synopsis is seemingly short and sweet, reading, "the Freaks rebel against new management. Dandy prepares for his debut performance. Elsa arrives in Tinseltown." But don't expect the FX mini series to be tied up in a neat little bun, because even though Elsa may be living out her dream, this tale is not of the fairy variety. Spoiler reports are proposing a couple of major plotlines will converge in tonight's finale episode, and a literal proposal or two, may even be involved!
The promo video for "Curtain Call" reveals that someone in Dandy's newly acquired troupe will be getting married. While there has been some co-habitation between some Freaks, the most passionate, even if only sided, relationship has come from Dandy and his love for the Tattler twins. He once asked Bette and Dot to marry him, however they rebuffed his offer, but could they say no to him now that he serves as their boss? If the wedding does occur there may be some uninvited and undead crashers, "American Horror Story" creator Ryan Murphy revealed that some characters will make miraculous returns, telling Vanity Fair, "Twisty is not over, and neither is Edward Mordrake. They both make triumphant returns." While Twisty and Mordrake's return is fun for fans, our favorite freaks may not be so thrilled, mainly due to Mordrake's return meaning that one of them will be forced to join his ghostly troupe. So who will be witnessing their last "Curtain Call," well fans believe there are two possibilities: Elsa, the recent Hollywood resident, who is seen falling to the floor in the promo video or Dandy, who is seen yielding a gun in the promo video. Dandy may be the one to die and join Mordrake; the egomaniac cannot see the error in his diabolical ways making him a perfect candidate.
Watch the finale episode of Season 4 of "American Horror Story: Freak Show" tonight at 10 pm on FX, or you can watch "Curtain Call" online for free via live stream at FX.com! Check out the promo video below for tonight's episode and let us know what you think; will Elsa die? Or is Dandy in danger of joining Mordrake's troupe?
© 2023 Latin Times. All rights reserved. Do not reproduce without permission.