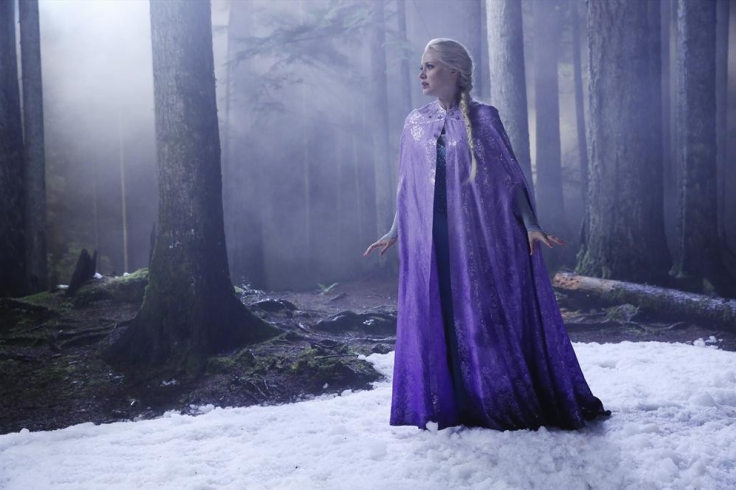 Tonight is an all-new episode of "Once Upon a Time" on ABC and we may finally see Anna (Elizabeth Lail) and Elsa (Georgina Haig) reunite! Since season four has began and Queen Elsa has arrived in Storybrooke all she's wanted to do was find her sister and from a sneak peek clip from ABC it looks like it may happen sooner than later. Although we don't think it will be that easy especially seeing how the Snow Queen is still running around the town with a mysterious plan and Rumplestiltskin is back to his old ways.
The TV Guide episode description for "Breaking Glass" reads: "Regina and Emma join forces to track down the Snow Queen after Sidney locates her. Meanwhile, Mary Margaret and David look for Will Scarlet, who's fled from jail; Elsa sees Anna in the woods; and in the past, young Emma befriends a fellow runaway orphan."
From a sneak peek clip released by ABC we see that Elsa may be closer than ever to a reunion with her sister Anna. The exclusive sneak peek clip starts with Elsa sitting alone in Emma's (Jennifer Morrison) car in the dark when she starts to hear whispers of her sisters voice. She then sees a figure which looks oddly like Anna but runs away. Check out the clip below:
There are a couple of ways to watch "OUAT" tonight! The first is to tune in live on ABC at 8/7c. But if for some reason you can't watch on TV ABC will stream it for free via their website with limited commercial interruptions the day after. Another option is to watch the episode live on your computer via ABC's website here! This service is available based on your location and if you qualify you have access to the episode during its air time and can watch live. A third option is to download ABC's mobile app, Watch ABC, for iOS and Android and watch on the go.
You can also purchase the episode for about $2 bucks from iTunes, Google Play, Xbox Video, Amazon Instant Video and more. Or if you are a Hulu Plus subscriber you will have access to the video the day after it airs and can watch for free!
© 2023 Latin Times. All rights reserved. Do not reproduce without permission.