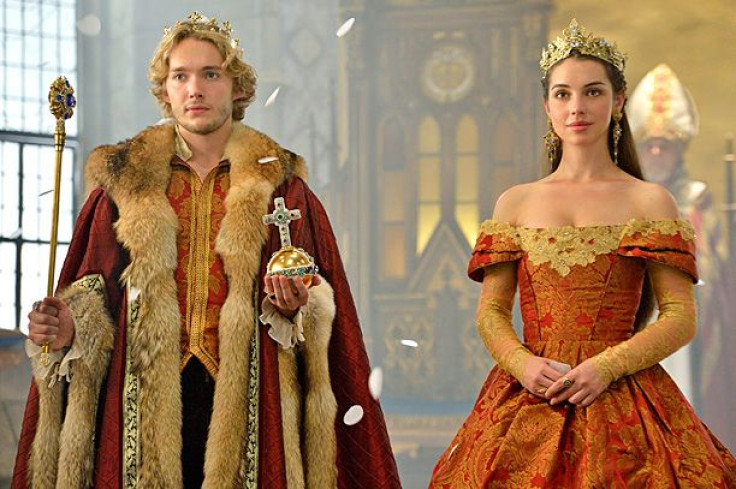 Tonight's episode of "Reign" is set to be one for the books, aptly titled "Coronation," fans will finally witness the long awaited coronation and crowing of Francis and Mary, and the King and Queen of France. The second season of the CW's periodical drama has been as successful, if not more, than the inaugural season in terms of plot lines, the drama has far from slowed down despite Francis and Mary settling down. Before their coronation, the reign of Francis and Mary was tested by the ruthless Narcisse who demanded retribution for the death of his son Edward.
Instead of bowing to the noble's demands, the pair devised a scheme to fool Narcisse into believing that although his murderous ways were exposed, Francis and Mary were divided on how to handle the matter, and as King Francis had the last word. Francis and Mary squabbled bitterly in front of Narcisse, who took the bait easily, relenting to Francis, mainly due to his belief that he had the King's favor and Mary did not. In actuality, after the public argument the couple reunited and were overjoyed that their devious scheme worked. However, the royal couple's ploy to keep Narcisse's demands at bay seem to only be a short term solution. The synopsis for episode 3 "Coronation" reveals that Mary and Francis will have to discover new ways to feed the people of France following the tragic black plague, however it seems that the hands on King and Queen will end up "risking the wrath of Narcisse."
While the kingdom is experiencing a famine Catherine, the mother of Francis and former Queen of France, will be busy making "excessive and lavish preparations" for Francis and Mary's coronation ceremony. However, like most things that involve Catherine, there are ulterior motives afoot. The coronation celebration is not for her son and daughter-in-law who she loves to hates, instead Catherine wants to "give the impression of stability to the realm." This stability is not set to last long mainly due to the lingering effects of the Black Death. That's right, fans will once again get a taste of the supernatural in "Reign" as Francis will be "preoccupied by the harrowing suspicion that his dead father's spirit can possess the living and is haunting Francis as revenge for his murder."
Check out the promo video for episode 3 of "Reign" below, in addition to all of this unfolding plot drama, fans will be treated to some steamy love making scenes between the newly anointed King and Queen of France. Now that Francis has an illegitimate heir through his child with Lola, Mary is most likely going to be more determined than ever to conceive a child with her husband, and the best way to make a baby is to have lots of sex, even royals know that! Tune in to episode 3 "Coronation" tonight on the CW at 9 p.m., or watch online available following the live premiere via online live stream at cwtv.com!
© 2023 Latin Times. All rights reserved. Do not reproduce without permission.