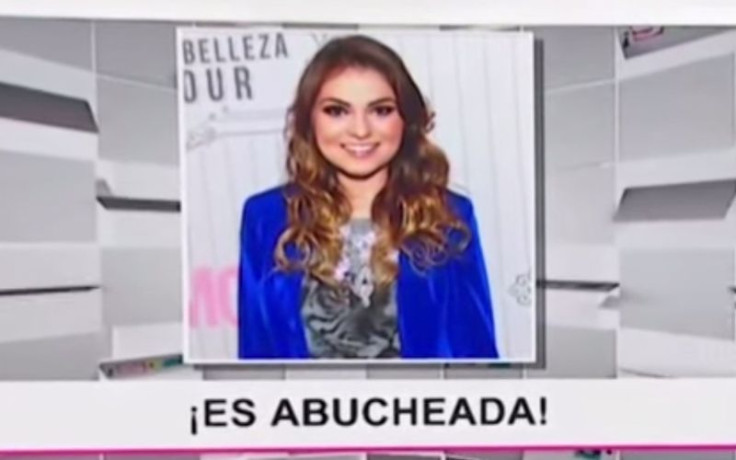 Sofía Castro was in Las Vegas for the Latin Grammys when she was spotted by the "Suelta La Sopa" cameras. The daughter of the First Lady of México, Angélica Rivera, was walking up to her hotel room and a reporter asked her what her thoughts were on her mother's scandal. If you've been following the news, Rivera was found to have invested in a multi-million dollar home dubbed the "white house." This did not bode well with Mexican citizens as many live in poverty and the house was extravagant. An onlooker yelled at her and haggled her all the way through the casino. Castro did not react to the insults and was focused on her phone. Watch the cringy moment down below!
Previously, Sofía Castro, daughter of Rivera, was questioned during a red carpet appearance about her thoughts over the missing students. Her answer was seen as indifferent and lacked compassion as she said she was there to receive an award and it wasn't the right time to talk about that. After the interview went viral Castro has become a target for reporters to question her actions. Sofía made an appearance at the Latin Grammys this past week and "El Gordo y La Flaca" host Raúl de Molina tried to catch up with her to give her a chance to redeem herself. De Molina chased Castro and her assistant as they rushed her through the halls of the MGM Grand in Las Vegas. Castro insisted that she had to be somewhere, but she would come back for the interview.
As "El Gordo" tried to score the interview he was seemingly out of breath, Castro was stopped by her publicist Danna Vazquez to grant De Molina an interview. Raúl questioned her about her comments on the red carpet. Sofía seemed uncomfortable and she kept looking off camera over to Danna. The latter went around, grabbed Castro by the hand and took her away. The hosts of the Univision show question why Sofía Castro was there if she wasn't prepared to give an answer. They are absolutely right. First, Sofía didn't present at the ceremony, there was no reason for her to be there. Second, she is not a musician, she was not nominated for an award. If the family is being targeted, why would she expose herself that way if she has nothing intelligent to say? Her appearance only further damaged the family's image. The Mexican citizens rightly demand some answers and they won't stop until they get them.
© 2023 Latin Times. All rights reserved. Do not reproduce without permission.