The West could be forced to intervene in the Russia-Ukraine conflict if Russian President Vladimir Putin uses chemical weapons in Ukraine.
On Wednesday, White House press secretary Jen Psaki alleged that Russia might be planning to use chemical or biological weapons in Ukraine, calling it "preposterous." She said "Russia's false claims" regarding alleged US biological weapons labs and chemical weapons development in Ukraine could be an "an obvious ploy" by the Kremlin to attempt to "justify its further premeditated, unprovoked, and unjustified attack on Ukraine."
British Armed Forces Minister James Heappey warned Russia on Thursday. During an interview with BBC Radio 4's Today program, he was asked if the use of such weapons would change the West's decision not to get involved militarily, Heappey then responded, "President Putin needs to be clear that the use of chemical weapons is just the most despicable thing that anyone can imagine. As horrid as the pictures we are seeing on our TV screens today of an artillery strike against a hospital (are), they are but nothing by comparison to the suffering and devastation that chemical weapons cause."
"I don't think it's helpful to get into any firm commitment right now about where that red line sits. But I think President Putin needs to be very clear about when other countries have used chemical weapons, it has caused an international response. And I think that the US are right to declassify the intelligence so that Putin knows that we know that he's got this under consideration. And I think he should reflect very urgently on what has happened to other countries where they have used this."
Britain has been provided mixed signals over whether or not to go and join the war. Foreign Secretary Liz Truss initially said she would support those who want to be involved. However, Defence Secretary Ben Wallace told people not to go a day later. Head of the UK Armed Forces, Admiral Sir Tony Radakin, has also urged Brits not to join the fight.
Meanwhile, Kyiv has established a foreign legion to help fight against Russia, which has gathered 20,000 volunteers from around the world.
During the Syrian civil war, chemical weapons were used by the Assad regime, backed by Russia. Officials fear Moscow could repeat the same tactic in the Ukraine invasion.
The Western allies have previously claimed that Russia could use thermobaric weapons, known as vacuum bombs, in the Ukraine war. Russia has already been criticized for dropping cluster bombs on civilian areas. Russian forces were accused of shelling a maternity hospital in the Ukrainian city of Mariupol. According to city officials, in an initial report, 17 casualties were found, including a six-year-old child.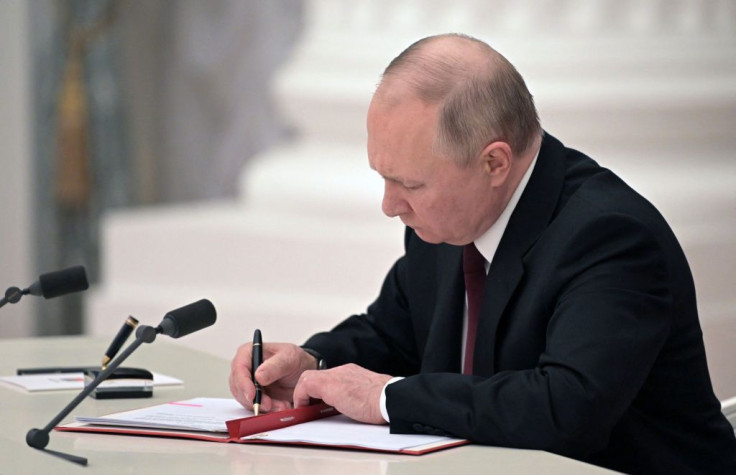 © 2023 Latin Times. All rights reserved. Do not reproduce without permission.