Thousands of pages of US infectious disease chief Dr Anthony Fauci's private emails regarding the early days of pandemic have been made public. They provide a rare glimpse into how Fauci dealt with the pressure during the big health crisis.
The over 3,200 pages of emails covering the period from January to June 2020 was obtained by BuzzFeed News.
According to the emails, he had an argument over an antiviral drug with Ezekiel Emanuel, a former Obama administration health adviser, he responded to questions related to vaccines, and got an update from Mark Zuckerberg on Facebook's plans for a coronavirus "information hub."
Zuckerberg also asked whether his social media platform could provide resources to accelerate testing of vaccine.
Among other celebrities, Fauci replied to an offer from actor Morgan Fairchild to use her Twitter account. "It would be great if you could tweet to your many Twitter followers," he responded to Fairchild. "The American public should not be frightened, but should be prepared to mitigate an outbreak in this country by measures including social distancing, teleworking, temporary closure of schools, etc."
Fauci also received many emails about the theory that coronavirus escaped from a Wuhan lab. One such email dated April 16, 2020 was by Francis Collins, the director of the National Institute of Health, under the subject line "conspiracy gains momentum." It was sent along with a link to a news story highlighting a report that said the lab leak theory had merit.
Fauci's response to Collins was blacked out. This May, Fauci said that he is "not convinced" the virus originated naturally and lent support for a probe, reported BBC.
In March 2020, Fauci and some of his other colleagues got an email from epidemiologist Gregg Gonsalves asking the National Institute of Allergy and Infectious Diseases (NIAID) director and his team to act promptly on the virus. The subject line was "We Are Desperate for Advice."
Responding to it, Fauci said, "Gregg: I am surprised you included me in your note. I genuflect to no one but science and always, always speak my mind when it comes to public health. I have consistently corrected misstatements by others and will continue to do so."
He also offered guidance to Sylvia Burwell, the former Health and Human Services Secretary, who emailed Fauci on Feb. 5, 2020 and asked him if she should wear a mask while traveling. "Masks are really for infected people to prevent them from spreading infection to people who are not infected rather than protecting uninfected people from acquiring infection," Fauci wrote.
"The typical mask you buy in the drug store is not really effective in keeping out virus, which is small enough to pass through the material. It might, however, provide some slight benefit in keep out gross droplets if someone coughs or sneezes on you. I do not recommend that you wear a mask, particularly since you are going to a vey low risk location."
Later, a friend in the Chinese public health field wrote saying that he had been misquoted in the media for saying the West is making a "big mistake" in not advising to use masks. Fauci replied, "I understand. No problem. We will get through this together."
Reacting to the emails, US Senator Rand Paul said that they make it "abundantly clear" the doctor is "a massive fraud."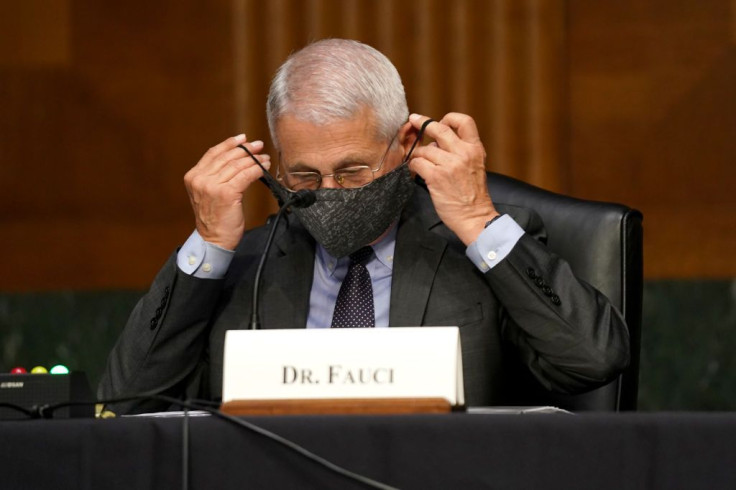 © 2023 Latin Times. All rights reserved. Do not reproduce without permission.