We're headed towards doomsday, and never in history has the human civilization gotten so close to it as it has, at present. Or so believe the Bulletin of the Atomic Scientists, the makers of the Doomsday Clock, who released the information on Thursday morning at the National Press Club in Washington.
Wondering how this works? Well, let us take you through this. The Doomsday Clock is a precise measure, or rather "conveys how close we are to destroying our civilization with dangerous technologies of our own making," as per the Bulletin.
That said, how close we actually are to Doomsday is directly proportional to the more danger that we're in. The Bulletin of the Atomic Scientists has been in charge of the clock's upkeep and effective functioning since 1947. The group was founded in 1945 by University of Chicago scientists, who played a key role in the development of the first nuclear weapons in the Manhattan Project.
This year, the group pushed the clock from two minutes to 100 seconds to midnight—which is indeed terrible news, if you're really worried whether Doomsday is close by. Because, in reality, it is.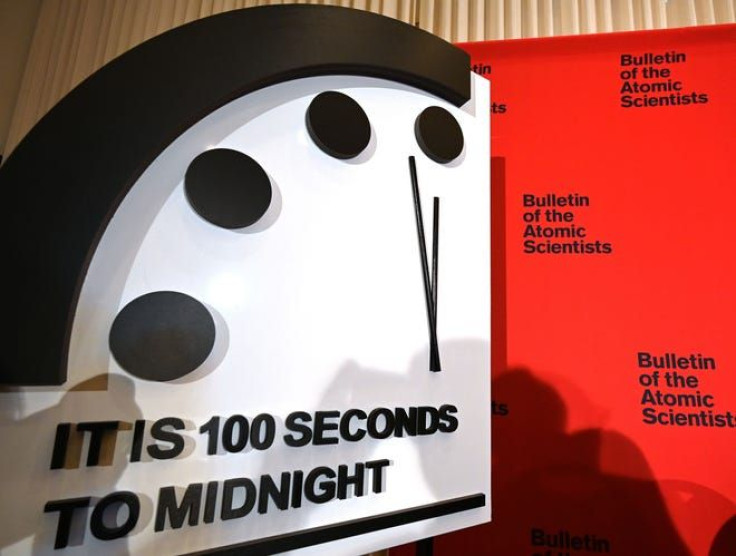 "We are now expressing how close the world is to catastrophe in seconds – not hours or even minutes," said Rachel Bronson, president, and CEO of the Bulletin of the Atomic Scientists to a media outlet. "It is the closest to Doomsday we have ever been in the history of the Doomsday Clock," Bronson added.
The Doomsday Clock inches closer to midnight—in three of the past four years—than ever before. The Doomsday Clock did not move in 2019 after its minute hand was set forward in 2018 by 30 seconds, to two minutes before midnight.
The theory sprouts from the potent dangers—nuclear war and irreversible climate change— that loom over humankind. The consequences of these natural disasters are so potent, that they are armed with the power to wipe out human civilization. "Climate change could devastate the planet is undeniably happening.
And for a variety of reasons that include a corrupted and manipulated media environment, democratic governments and other institutions that should be working to address these threats have failed to rise to the challenge," stated the group.
© 2023 Latin Times. All rights reserved. Do not reproduce without permission.