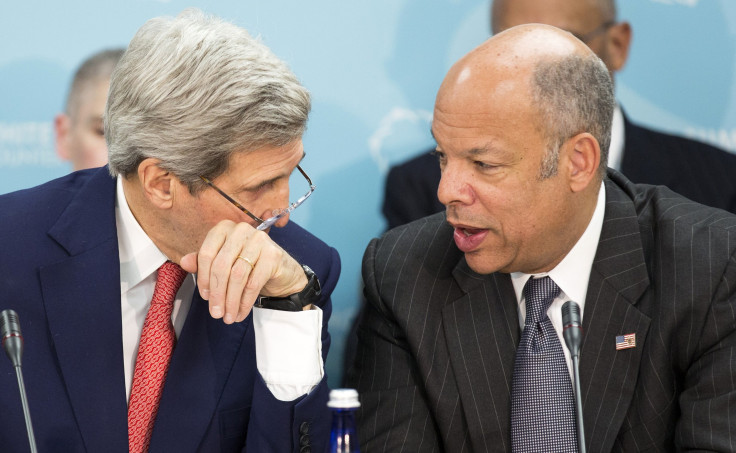 In a letter to legislators, top Obama administration defended its policy of deporting Central American migrants, and rejected calls to halt controversial ICE raids. The message followed a push by U.S. Senate Democrats to stop deporting Central American migrants who have applied for humanitarian relief since November 20, 2014. In the letter, first obtained by Politico , Secretary of State John Kerry and DHS chief Jeh Johnson argued that many of the migrants did not "seek" humanitarian protection or did not prove that they "qualify" for refugee status or other forms of deportation relief.
Over 200 NGOs wrote a letter this week urging the Obama administration to grant migrants from Guatemala, Honduras and El Salvador Temporary Protective Status, echoing a letter from 20 Senate Democrats and even some Democratic presidential candidates (read more about TPS here, here and here.) Kerry and Johnson's letter is a flat rejection of their pleas.
"We will continue to conduct enforcement actions in line with existing laws and policies, including the apprehension and removal of individuals with final orders of removal who have exhausted or waived all appeals," Kerry and Johnson wrote. "The enforcement actions referenced in your letter are consistent with this approach."
The backlash began even before the first raids had taken place after the Washington Post broke news of the tactics in December 2015. Pro-immigrant groups have offered various complaints with the operation, saying that refugees are not sufficiently served by existing policies.
Asylum seekers are not appointed lawyers, and those who cannot afford one are much more likely to fail. Asylum itself is a narrow criteria, and doesn't apply to many migrants, including those who face an astronomical risk of death if deported. Many of the migrants don't even have the resources or bureaucratic savvy to present their cases.
The letter revealed by Politico essentially shrugs off those first two concerns. To offer a slight relief on the last one, ICE officials have recently invested millions into programs that might help refugees make it to court. The money is essentially being paid to contractors to help as many as 800 families find low-cost housing, transportation and low-cost lawyers.
Unlike in criminal proceedings, immigration violators do not have the right to an attorney if they cannot afford one.
© 2023 Latin Times. All rights reserved. Do not reproduce without permission.