The White House has blasted the U.S. Border Patrol after its officers on horseback were snapped chasing after Haitian migrants and whipping them as they attempted to climb onto the U.S. side of the Rio Grande on Sunday afternoon.
In a statement, the Department of Homeland Security vowed to conduct an internal probe on the matter after White House press secretary Jen Psaki called the images "obviously horrific" and demanded accountability, which is echoed by Democratic lawmakers, USA Today reported.
The images revealed the moment U.S. border agents on horseback were in pursuit of Haitian migrants carrying their food and supplies in plastic bags near the Rio Grande close to Del Rio, Texas, on Sunday.
In one photo, a border patrol agent seemingly grabbed the shirt of a man trying to escape the officials.
Reports of an agent shouting at the Haitians have also emerged, quoting the man yelling, "Get out now! Back to Mexico!" The agent would allegedly move to swing what seemed to be a whip or a cord before charging his horse toward the men in the river.
Low on supplies, the asylum seekers were legally allowed to cross back and forth to Mexico to collect food. However, border agents abruptly reversed the decision on Sunday, with news not seemingly immediately reaching those on the other side.
Democratic Representative Alexandria Ocasio-Cortez of New York took to Twitter to slam the inhumane Border Patrol officers on these "human rights abuses," the Business Insider noted.
"It doesn't matter if a Democrat or Republican is President, our immigration system is designed for cruelty towards and dehumanization of immigrants," Ocasio-Cortez said. "Immigration should not be a crime, and its criminalization is a relatively recent invention. This is a stain on our country."
Press secretary Psaki also said that while she has seen some of the footage, she is yet to garner more details about the incident as investigations continue.
"I don't think anyone seeing that footage would think it was acceptable or appropriate," she noted.
However, Psaki would stop short at confirming whether the border patrol agents in question will be fired. Instead, she opted to comment, "They should never be able to do it again," of the "obviously horrific" footage.
The White House official also refrained from elaborating on the Biden administration's further plans on some 10,000 Haitian migrants waiting at a makeshift camp in Del Rio, Texas, seeking asylum. Several thousand Haitians have already been deported back to their homeland.
The border has seen a surge in the arrivals of migrants from Haiti, which currently faces endemic poverty, violence, and political unrest following the assassination of its president in July and the brutal 7.2-magnitude earthquake that killed over 2,000 residents the month after, according to the Daily Beast.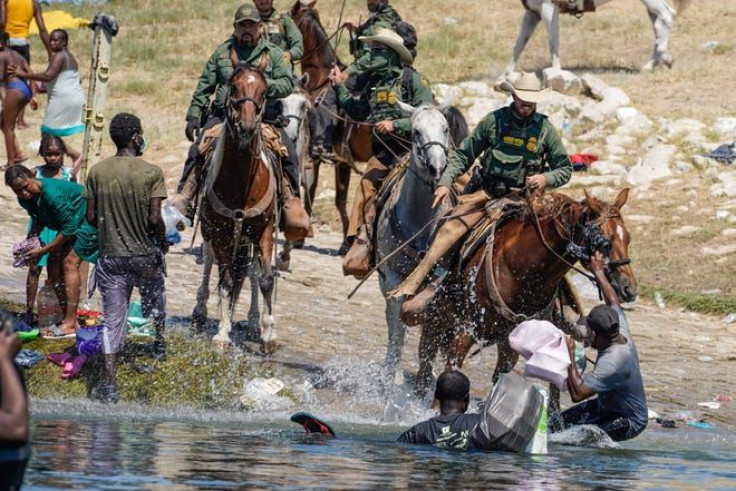 © 2023 Latin Times. All rights reserved. Do not reproduce without permission.