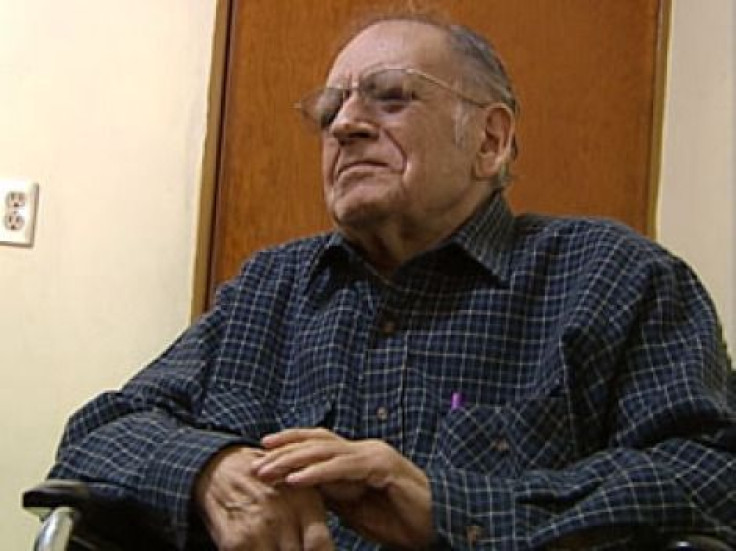 "The Silence Of The Lambs" turns 25, and author Thomas Harris wrote a very revealing preface for a special edition released commemorating the anniversary of this literary thriller.
RELATED: Thomas Harris, 'Silence Of The Lambs' Author, Reveals Hannibal Lecter Was Inspired By Real Life Mexican Doctor
For the first time Harris opened up about his famous character Hannibal Lecter, disclosing that on a trip to a prison in Monterrey, Mexico, to interview an American inmate accused of murder, he met a rather interesting prisoner, whom he named "Dr. Salazar" to protect his identity. His interaction with the intriguing doctor later gave life to the infamous killer that chilled even the warmest of bloods.
Harris was a 23-year-old journalist sent to the Nuevo Leon State Prison in Monterrey to interview mental patient Dykes Askew Simmons who was under a death sentence for killing three young people.
Simmons had tried to escape the prison but instead ended up wounded. That's when "Dr. Salazar" came in. He saved the inmate and in an attempt to add to his story, Harris decided to interview him.
During their encounter, the conversation took a much darker twist when the doctor began questioning the young writer on Simmons's disfigured appearance, the nature of torment and the murderer's victims.
RELATED: Dr. Alfredo Balli Trevino Knew He Was The Real 'Hannibal' And Other Unknown Details Of His Life
It was later that Harris learned of Dr. Salazar's history from the prison warden. He recalls his encounter: "Dr. Salazar was a small, lithe man with dark red hair. He stood very still and there was a certain elegance about him ... (After talking to him for a while) ... the warden walked me out. I thanked him for his time ... I asked how long Dr. Salazar had worked there. 'Hombre (man)! Don't you know who that is?'... The warden turned to me on the steps, 'The doctor is a murderer. As a surgeon, he could package his victim in a surprisingly small box. He will never leave this place. He is insane'"
Although Harris wanted to protect the doctor's identity, the information provided matches a very peculiar case covered by the Mexican media in the early 1960's about a medical intern who was the last person in Mexico to be sentenced with the death penalty.
That person was doctor Alfredo Ballí Treviño, convicted for the murder of his sentimental partner, Jesús Castillo Rangel. He was also accused of secretly burying his victim's body and usurpation of profession, but his sentence was commuted to 20 years at the Topo Chico Penitentiary in Nuevo León.
According to legal files, on October 9, 1959, Ballí Treviño visited Castillo Rangel, who was also a doctor, to collect money he had asked because he was going through a financial crisis. When Ballí Treviño realized the amount, he asked for more, but Castillo Rangel refused.
The first took a scalpel and went for Castillo's jugular. The latter didn't die, so Ballí dragged him into the bathroom where he finished what he had started.
After the crime, Ballí called his friend Francisco Carrera Villareal, who was the late doctor's driver, for help. They went over to Carrera Villareal's uncle, Guadalupe Villareal, whom they asked for a shovel to dig a whole. The two accomplices went to an empty lot and buried the body.
What they didn't expect was that Guadalupe Villareal suspected something was wrong. He followed the pair and later found out the remains of Doctor Castillo. Villareal called the police, who arrested Ballí and Carrera.
It was later found out during the trial that Alfredo Ballí Treviño, Jesús Castillo Rangel and Francisco Carrera Villareal were romantically involved and engaged in sexual acts.
Although Ballí Treviño was sentenced to die by judge Marco Antonio Leija Moreno, the law code in Mexico at the time allowed his lawyers to commute the death penalty to the maximum sentence, 20 years in jail.
Back in December, 2008, 81-year-old Ballí Treviño sat down with Monterrey newspaper Milenio in what seems to be his last interview on record.
The doctor expressed that his past was buried and that 47 years after what happened, he wished to forget it.
"If you want we can talk about anything you'd like, except for that. I don't want to relive my dark past. I don't want to wake up my ghosts, it's very hard. The past is heavy, and the truth is that this angst I have is unbearable. I can't live with it," said the doctor to his interviewer.
Ballí Treviño was in a wheelchair after suffering an injury to his spine, but that didn't stop him to continue working.
"I don't remember how many years I've been a doctor," he said. "Now I take care of the people from the neighborhood, the elderly like me."
He recalls the time when he got out of jail, confessing life wasn't easy after becoming a free man.
"I think I got out of prison in 1981, but I honestly don't remember. At first it was difficult, but with time things improved. However, some days depression comes back," he confessed.
"I payed what I had to pay. Now I'm just waiting for the divine punishment," the doctor added.
The doctor finished his interview saying that his main goal was to never stop working and to be able to walk again. Although his time in jail was for the murder of his partner, many other crimes of the same nature have been linked to him.
Alfredo Ballí Treviño died at the beginning of 2009.
© 2023 Latin Times. All rights reserved. Do not reproduce without permission.