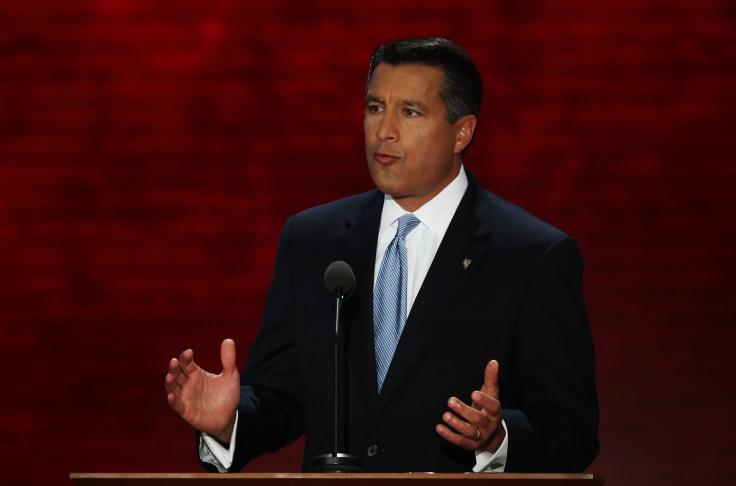 As Republican presidential hopefuls face off in Nevada today, none of them will be getting an endorsement from the state's popular Latino governor. Mr. Brian Sandoval has been courted for an endorsement, and even lent his shoes to Marco Rubio, but confirmed with the Las Vegas Sun on Tuesday that he won't be lending his name to any of the candidates just yet. Candidate by candidate, here's why Sandoval can't find a 2016 GOP candidate worth endorsing ahead of his state's primary, when such a move would arguably have the most impact. As Politico points out, his centrist endorsment might not help candidates locked in a primary anyway.
Donald Trump
Sandoval stated as far back in August of 2015 that he wouldn't back Republican Donald Trump, who is heavily favored in Tuesday's primary race. Sandoval told the Sun at the time that he thought that "there are better qualified individuals" than Trump, saying that the former CEO lacked executive experience. Trumps policies might also be too extreme for Sandoval, who has supported comprehensive immigration reform and approved driver's licenses for immigrants in the country illegally.
John Kasich
Ohio Gov. John Kasich is the only executive left in the race. The number of Republican candidates has shrunk by 11 people since Sandoval's August comment about executive experience, and Sandoval is running out of time if he wants to make an endorsement count. But Kasich is having trouble justifying his campaign in the apparent round robin of outsider, fringe and mainstream candidacies of Trump, Cruz and Rubio. Even crowd members at his rallies are asking him to quit.
Marco Rubio
If Sandoval wanted to endorse Rubio, he would have done it yesterday or over the week. The Nevada Gov. reiterated on Tuesday that he wanted to endorse someone with executive experience, i.e. not the first-term Senator from Florida. In contrast to centrist South Carolina Gov. Nikki Haley, who endorsed Rubio ahead of her state's GOP primary, Sandoval is giving the Floridian a pass when he most needs him.
Ben Carson
Wait, Carson is still in the race? Yes, but he doesn't have executive experience either, and people are asking him to just drop out already.
Ted Cruz
Sandoval even less likely to endorse Cruz than Rubio. Not only is he a Senator without the executive experience Sandoval values, but he's also been indirectly criticizing the Gov. in his own back yard. In a recent radio interview, Cruz referred Sandoval's increases in taxes to fund an education plan as a sort of RINO betrayal, according to the Texas Tribune's Patrick Svitek. If that's really how Cruz feels, he probably doesn't even want Sandoval's endorsement.
If Sandoval can't get what he want -- executive experience that's not Kasich -- he might just be stuck with what is left over. In 2012, he endorsed Tex. Gov. Rick Perry early in the race, only to have to shuffle that support over to Mitt Romney. At least waiting will allow him to endorse only once.
© 2023 Latin Times. All rights reserved. Do not reproduce without permission.