Taylor Swift is perhaps the best-selling artist today with seven number one songs in Billboard Chart history, 10 Grammy Award wins and a net worth of $320 million. Fame came with a price, though, as she found herself in controversies and made a few enemies along her way to becoming the world's leading singer and songwriter.
Swift has had bad blood with various personalities, including ex-boyfriends, critics, reality stars, her squad. Who are these famous people whom Swift had feuded with? What are the stories behind them?
Kanye West: 2009 To Present
No one will ever forget how the MTV Video Music Award changed Swift. Swift accepted her Best Female Video award for "You Belong With Me" when West grabbed the microphone and announced that Beyoncé has one of the best videos of all time.
The feud went on for years, but for a moment the world thought that the feud was over between them. In 2015, the two artists were spotted hanging out and even hugging during the VMA that same year.
Camilla Belle: 2009 To Present
Belle is the suspected reason that Joe Jonas, Swift's ex-boyfriend, ditched her through a 27-second phone call. Swift's song "Better Than Revenge" is the singer's reference to the actress. While Belle and Jonas broke up a few months after, Belle is still in bad blood with Swift over the song.
Katy Perry: 2012 To Present
Swift and Perry used to be close friends, but the tension allegedly started when Perry dated Swift's ex-boyfriend John Mayer two years after their breakup. A bigger issue surfaced involving Swift's dancers who ditched her tour to perform at Perry's Prismatic world tour.
Diplo: 2012 To Present
Diplo felt the need to defend his then-girlfriend Perry over Swift's song "Bad Blood" and brought over to Twitter his attack. "[S]omeone should make a kickstarter to get taylor swift a booty," he said. The DJ slash producer didn't rouse any reaction from Swift but did from Swift's fans.
"They threatened to murder me and stuff," he said, referring to Swift's dedicated fans. "Taylor Swift is very strategic with her friends and enemies. And I know lots of secrets. I can't divulge, but I know a lot of stuff about her," Diplo claimed in a GQ interview.
Kim Kardashian: 2016 To Present
The release of West's song "Famous" brought back the bad blood between him and Swift. The explicit lyrics that had reference to Swift — "I feel like me and Taylor might still have sex" — enraged friends and the family of the pop singer. West argued that Swift gave her approval of the lyrics and thought they were funny.
Swift, however, denied the claims and said that she will never allow herself to be involved in a sexist message. Kardashian, wife of West, released a recorded audio of West asking Swift's approval for the lines. Since then, Kardashian started using the snake emoji to describe Swift. To counter this, Swift used the snake emoji as her new image in "Reputation."
Special Mentions
Swift feuded with other celebrities, including several female artists, over some misunderstood statements and some for allegedly refusing to join Swift's squad. Female artists who reportedly rejected the squad includes Miley Cyrus and Rihanna.
Swift had a brief drama with Nicki Minaj when Minaj tweeted something about music videos being recognized for women parading their slim bodies. Coincidentally, Swift won Video of the Year for "Bad Blood," while Minaj didn't get a nomination.
Pop singer Demi Lovato had some issues with Swift not holding her ground for important issues. It started with Kesha accusing Dr. Luke of abusing her. Supports poured from women in the music industry except for Swift. Lovato indirectly lambasted Swift for her silence. Lovato seemed to have favored Kardashian over Swift in a tweet.
Ex-Boyfriends
Swift had several post-relationship dramas with her former boyfriends, like Calvin Harris, Joe Jonas, John Mayer, Jake Gyllenhaal and Harry Styles. She tends to get back at her exes through songs. For example, "Dear John" was allegedly for Mayer and "We Are Never Ever Getting Back Together" was reportedly for Gyllenhaal.
But perhaps the most controversial ex-boyfriend Swift had was Harris. Shortly after Swift and Harris broke up, Swift was spotted getting cozy with actor Tom Hiddleston. Harris then released the song "This Is What You Came For" with Rihanna. The collaboration of Harris and Rihanna led to some people asking him about working with Swift. Harris answered saying that it never crossed his mind. Later on, news reported that Swift co-wrote "This Is What You Came For" under a pseudonym.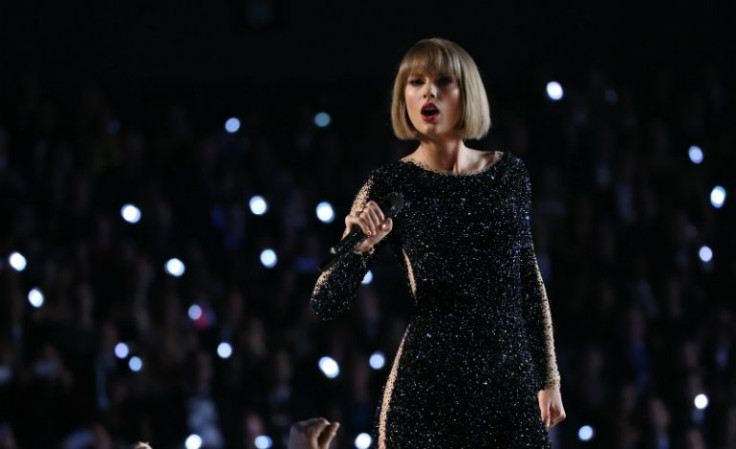 © 2023 Latin Times. All rights reserved. Do not reproduce without permission.