A woman on an airplane flight to Europe found herself in isolation from the other passengers on Monday, Dec. 20 after she tested positive for COVID-19 mid-flight, with the crew helping her quarantine for four hours in the plane bathroom until they landed.
Marisa Fotieo, a teacher from Chicago, was on a flight to Reykjavik, Iceland with her family so that they could spend their European vacation together, when she felt her throat start to hurt and itch a bit, ABC 13 reported.
Concerned about the sudden ailment, Fotieo tested herself with a handy rapid test kit that the airplane had and found out that she had COVID-19.
Realizing the seriousness of the situation, she approached the flight crew on the plane regarding the situation, and one of the flight attendants realized that there wasn't enough room to separate her for isolation. They suggested that she isolate herself in the bathroom until the flight ended, according to the New York Post.
"Their flight attendants are so positive and so kind, and they just put everybody at ease the second that this happened. They put me at ease, which is why I think I was so willing to stay in that bathroom," she said.
Fotieo agreed to the measure to ensure the safety and health of the passengers onboard. She filmed a TikTok of her ordeal, which had gone viral with over 4 million views on the platform, according to USA Today.
"I can't believe I spent four hours in that bathroom, but you've got to do what you've got to do," she said.
After the flight, Fotieo's brother and father proceeded to Switzerland alone while she was taken to the local Red Cross Humanitarian Hotel to finish her quarantine and isolation.
One of the flight attendants who helped her with the ordeal, Ragnhildur "Rocky" Eiríksdóttir, sent her hotel room gifts and Christmas decorations to ensure that her holiday would still be spectacular even on her own.
Fotieo plans to leave the hotel after her 10-day quarantine, though it is not sure if she will leave to join her family in the vacation or to return to Chicago for her teaching job.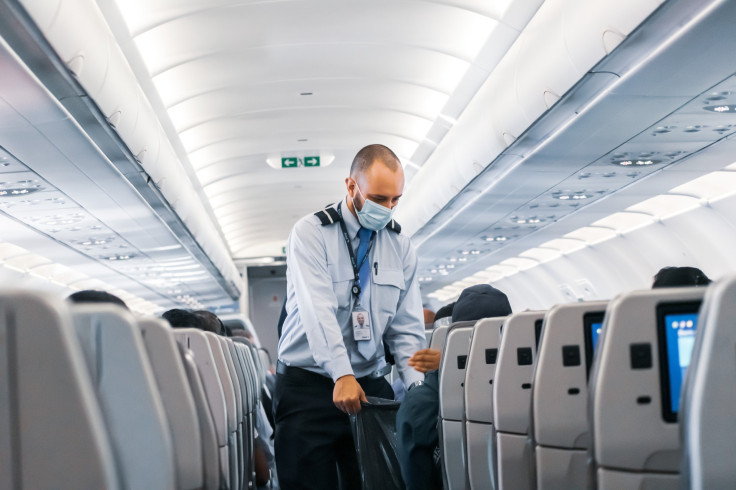 © 2023 Latin Times. All rights reserved. Do not reproduce without permission.